Please RSVP to this Meetup first.

                                              * * *

Meet and Greet with the founder of CoolTrade, Inc.
The creator of the world's only fully automated stock market trader will be in Minneapolis for his last scheduled speaking engagement. Taking almost a decade to develop, CoolTrade makes trading stocks automatic and easy!

Come hear the story of how Ed Barsano, a former Microsoft design engineer and worldwide operations manager, came to create this ground-breaking software! This is a rare speaking engagement that you won't want to miss.
Join the creators and founders, Ed Barsano & Cary Flanders as they demonstrate the CoolTrade™ platform and explain how this one and ONLY, fully automated stock trading platform can lead to greater financial freedom, by leveling the playing fields for any average individual.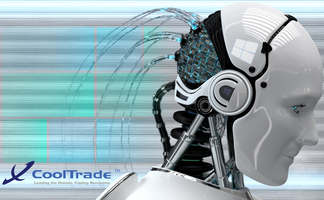 The CoolTrade™ platform was created by former Microsoft programmer, Ed Barsano and made privately available in 2005. In 2013, CoolTrade™ was a winner of the "Moving America Forward" Entrepreneur Award. "Moving America Forward" is a nationally televised TV series hosted by William Shatner & Doug Llewellyn.

Since its public debut just months ago, Cool Trade has been featured on MULTIPLE national television channels, and is primed to be one of the biggest technological advancements since the creation of the home computer. In fact, many are calling this revolutionary advancement a "disruptive technology" because of its uncanny ability to level the stock market for ANY average individual!!!

This automated platform demonstration event will be presented by two VERY special guests, Ed Barsano & Cary Flanders in person!!! Please don't miss the opportunity to meet these "software celebrities" in person.

This is a FREE automated stock trading platform demonstration to all those that attend. It is however 100% mandatory to pre-register for this event. Please register yourself and any guests you wish to bring along to ensure you have seating available upon arrival.

YOU WILL NEED A TICKET TO ENTER. Tickets are free.
To Register Online
• RSVP to this Meetup.

• Click here to do the online registration now at Eventbrite, print your ticket at home & bring it with you. Expect an email from Eventbrite.
• Type in "Tami Massee" in the Please let us know who notified you of this event field on the registration screen form, Other Information section.

• Print the ticket and bring it to the event on Saturday or be able to display it on your smartphone.  The ticket will be scanned at the door. 

To Register In Person

• RSVP to this Meetup.
• Get to the event by 8:30 a.m. or earlier, and wait in the Registration line.
• Write "Tami Massee" in  the Referred-By box on the registration form.

• You will get a printed ticket after your information is typed into the registration computer.
• The ticket will be scanned at the door.

Presentation starts at 9:00 a.m. in Atrium 2, on the 2nd floor. Use the right-hand North Entrance from the parking lot.
                                               * * *

Several TCTG members that use CoolTrade are planning on attending. Talk to Tami M, Fran Runchey, John Alden, or Dave Arenson if you have more questions.

Click here to download the flyer PDF (with tear-offs), if you'd like to post it somewhere.

                                                * * *
"CoolTrade™ discussions and presentations are for demonstration and education purposes, and not intended as legal, tax, or investment advice. CoolTraderPro™ LLC and CoolTrade Inc. do not provide securities strategy recommendations or buy, sell or hold recommendations. Be aware that historical trading performance does not guarantee future trading results. CoolTrade, Inc. and CoolTraderPro LLC, on behalf of themselves and their affiliates, employees, representatives and agents expressly disclaim responsibility for any errors or omissions in the information provided, and make no representations or guarantees about its accuracy or completeness.

CoolTrade™ subscriptions include popular pre-loaded trading strategies that have been contributed by other subscribers. Their inclusion is for convenience to new users for education and trading simulation, and should not be construed as recommendations or advice. You should consult your licensed financial advisor to determine if the CoolTrade™ platform and/or simulation strategies are suitable for you before you take any action based on the information provided, or before using any pre-loaded training strategies for live trading."

Copyright © 2013 CoolTraderPro™ LLC. All rights reserved.