Hello fellow hikers,
This morning I will be leading a hike to famous and Iconic Cathedral Rock in Sedona.
This is a short 0.7 mile (1.4 miles round trip) but strenuous trail which quickly rises 608 feet in elevation. The midsection of the trail has a near vertical segment which requires climbing. The trail is well marked and many hikers can be found using the trail. The trail traverses the east side of the mountain and thus the hike is better taken in the afternoon so one is hiking in the shade. On the top, there is a narrow plateau with steep slopes on each side. The width is about that of a wide sidewalk and several stones are perfect for sitting. One can enjoy the view if not afraid of the heights. The hike ends at the northern saddle (to the left), between the middle and northern spire.
This may be a short hike but the steepness and the climbing is what can scare people off. Please assess your capabilities before attempting a hike like this.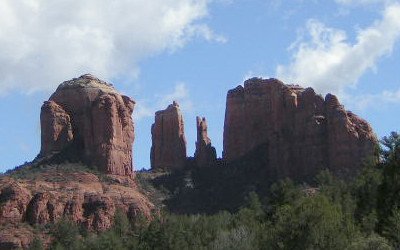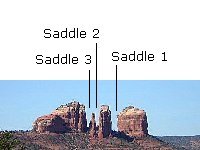 There will be two different Meetup Locations:
1. At the TrailHead itself at 7:45am, with a 8:00am Prompt Hike Start time. From the 89A / 179 "Y" ... take 179 south 3.4 miles; turn right on Back O' Beyond Road for 0.6 miles; parking lot is on your left. The trailhead for the hike is half a mile along the paved Back of Beyond Road, which forks westwards off AZ 179, 3.4 miles south of the US 89A junction. This road dead ends a little way further at an upscale residential development, its houses built on a gently sloping, cactus and tree-covered hillside above Oak Creek. The parking area is rather small, accommodating only 18 vehicles, and often fills up by mid morning, but extra space is available on verges and on a stony streambed which crosses a little further along the road; a usually dry drainage but one prone to flash floods.
OR
2. Anthem Outlets: I would say at 5:45am with a 6:00am sharp Departure. I will be meeting at the Trailhead personally, as I am staying in Sedona the night before. Email if you would like some tips if you would like to stay in Sedona for Saturday night. Google Maps is saying a 1 hour and 27 minute drive from the Anthem Outlets to the Trailhead. You may decide to leave a little earlier than that. I will find a co-organizer or volunteer to take roll call here.
Not sure if you can handle the hike, check it out here: http://www.americansouthwest.net/arizona/sedona/cathedral-rock-trail.html or http://www.wildsedona.com/trails/cathedral.htm or http://www.sedonahikingtrails.com/cathedral-rock-trail.htm or http://hikearizona.com/decoder.php?ZTN=22. or http://www.greatsedonahikes.com/cathedralrock/cathedralrock.html
After the hike we will be going over to the Grasshopper Point for some swimming and Cliff Jumping. This really isn't a hike as it is easily accessed from the Grasshopper Point Parking Lot. I will be bringing my 5 year boy to swim, however, I am not bringing him on the steep hike. It is a 13 minute drive from the hike to the swimming area.
Some websites to check out: http://www.fs.usda.gov/wps/portal/fsinternet/!ut/p/c5/04_SB8K8xLLM9MSSzPy8xBz9CP0os3gDfxMDT8MwRydLA1cj72BTJw8jAwgAykeaxcN4jhYG_h4eYX5hPgYwefy6w0H24dcPNgEHcDTQ9_PIz03VL8iNMMgycVQEAHcGOlk!/dl3/d3/L2dJQSEvU...
or
http://www.visionsofheaven.com/journeys-sedonadocs/sedGrasshopper.html
LUNCH IN SEDONA AFTER SWIMMING.