Feb 8, 2014 · 7:15 PM

Herb Pearce
Herb starts and stops the movie to point out Enneagram types, subtypes and relationship dynamics between the types. It's always a fun or deep learning experience and a great way to learn the Enneagram.
Herb is an Enneagram expert, relationship therapist and coach, author of 2 Enneagram books and he leads Enneagram workshops for the public, as well as for groups and organizations.
Optional vegetarian dinner $5 extra at 6:30
Movie at 7:15
[masked]
[masked]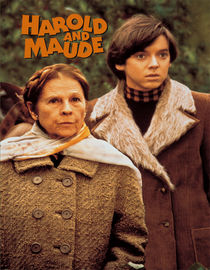 Harold and Maude 1971 PG 91 minutes
Hounded by his mother to get out and date, death-obsessed teen Harold would rather attend funerals. But when he meets the feisty Maude, a geriatric widow who's high on life, they form a bond that turns into an unconventional romance.
Cast: 
Ruth Gordon
, 
Bud Cort
, 
Vivian Pickles
, 
Cyril Cusack
,
Charles Tyner
, 
Ellen Geer
, 
Eric Christmas
, 
G. Wood
, 
Judy Engles
, 
Tom Skerritt
 Director:
Hal Ashby
Genres: 
Classics
, 
Cult Comedies
, 
Dark Humor & Black Comedies
,
Classic Comedies
, 
Blu-ray
This movie is: 
Quirky
, 
Romantic
, 
Dark
, 
Emotional