THE BOILING POINT TEA PARTY MEETING
DECEMBER 10, TUESDAY, 7:00 OR .....6:00 FOR DINNER AND CONVERSATION
THE NO FRILLS BAR AND GRILL BANQUET ROOM
801 OLD MAIN, KELLER 76248
GUESTS WILL BE FAMILY COURT JUDGE CANDIDATES AND MORE YET TO BE ANNOUNCED!The Metroplex Republican Women Club Christmas Party has been cancelled and re-scheduled for January 4, Saturday. AFTER A RECOUNT, THE KELLER TRANSPORTATION BOND STILL LOST. BY ONE VOTE!!! YOUR VOTE DOES COUNT!MARCH 4, 2014 - PRIMARY ELECTIONS / NOVEMBER 4, 2014 GENERALMARK YOUR CALENDARS!   THIS IS THE MOST IMPORTANT DATE FOR 2014 IN THE STATE OF TEXAS.  WHY? BECAUSE THE WINNERS WILL BE ON THE BALLOT IN NOVEMBER.  THIS IS YOUR ONLY CHANCE TO MAKE A DIFFERENCE OR SUPPORT YOUR REPUBLICAN CANDIDATE.  THERE IS A HUGE POSSIBILITY THAT THE WINNERS IN MARCH WILL GO ON TO WIN AGAIN IN NOVEMBER IN TEXAS. EARLY VOTING BEGINS FEBRUARY 17 - THROUGH FEBRUARY 28. News about Martin Bashir WHO SAID:  Someone Should Defecate On Palin.  Bashir has "resigned" ! A win for common decency.
Communist Party
@communist_party
Nelson Mandela has died. A hero against all the odds. True friend of ordinary ppl & progressive politics, we miss u twitter.com/communist_part…­A picture is worth a thousand words.  The real Nelson Mandela was no hero except to Obama who shares his hatred for America.  Obama has a real connection with former terrorists, Ayers etc.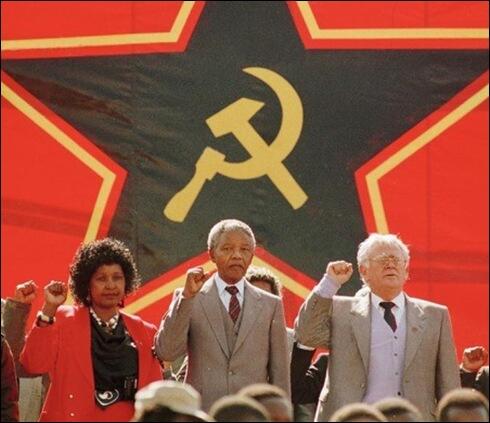 Friday, July 16, 2010
"It's a tragedy what is happening, what Bush is doing. All Bush wants is Iraqi oil. There is no doubt that the U.S. is behaving badly. Why are they not seeking to confiscate weapons of mass destruction from their ally Israel? This is just an excuse to get Iraq's oil. . . ."If there is a country that has committed unspeakable atrocities in the world, it is the United States of America."
–
Nelson Mandela, Jan. 30, 2003
The Crimes of Terrorist Nelson Mandela:Read here the crimes of the clever terrorist Nelson Mandela (most have never heard of, denied the opportunity by the treacherous liberal media) and understand why Amnesty International never accepted him as a political prisoner. Even as the world finally woke up to how wicked Winnie Mandela is, we must face reality about how dangerous and deceitful Nelson Mandela has been.The fact is that even Amnesty International refused to take on Nelson Mandela's case because they asserted that he was no political prisoner but had committed numerous violent crimes and had had a fair trial and a reasonable sentence.Nelson Mandela was the head of UmKhonto we Sizwe, (MK), the terrorist wing of the ANC and South African Communist Party. He had pleaded guilty to 156 acts of public violence including mobilizing terrorist bombing campaigns, which planted bombs in public places, including the Johannesburg railway station. Many innocent people, including women and children, were killed by Nelson Mandela's MK terrorists.South African President P.W. Botha had, on a number of occasions, offered Nelson Mandela freedom from prison, if he would only renounce terrorist violence. This Mandela refused to do.

The tsunami of obituary praise for Mandela — "an international emblem of dignity and forbearance," the New York Times proclaims — threatens to wash away the historical reality of who Mandela actually was.December 9 at 6:00PM
is the deadline for all candidates, including precinct chairs, to file or remove their names from the ballot.  Precinct Chairs must file at the TCGOP office.  No faxes etc.  All must appear in person and use the notary at the GOP office.  It is always interesting to see who drops in and who drops out at the last hour.
December 9, 2013
-  An invitation from Eric Mahroum: FOR MORE DETAILS CHECK OUT HIS FACEBOOK PAGE AND FRIEND HIM.
https://www.facebook....
­



Howdy Friends, come join us for Eric's Campaign KICK START FIESTA at Mercado Juarez (Ft Worth, Northside) on Monday, Dec 9th to support Eric Mahroum for State Board Of Education (SBOA), District 11      !https://www.facebook....­



Marie Howard, President
The Boiling Point TEA Party.com
817-300-5610