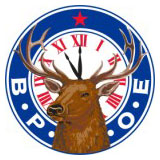 Who are the Elks?
Elks Lodges bring so much more to their communities than just a building, golf course or pool. They are places where neighbors come together, families share meals, and children grow up.
Come join The Hawaiian LV/HI Care Bear Robbie for Taco Tuesdays at reasonable prices for over 17 items that are very filling, low pricing $1.00 plus, diced tomatoes, diced onions, lettuce, cheese, sour cream, mild salsa, green peppers, iced tea, iced water, jello or cake.......... Alcohol beverages at low prices.........
On Fridays they offer Fish Fry, Shrimp Scampi, Cat Fish, Cod---all for $7-8.00 each dinner. Includes French Fries, Cole Slaw, Rolls, Hushpuppies, Desert, Coffee, Tea, Iced Water. Give a comment if U folks would like this.........
Any questions please ring Robbie @Cell--[masked]-8990.