Join us for $15.00 Harrisburg's next Lock and Key Singles Party! A great non-intimidating way to meet singles in the Harrisburg area! Prepay online at www.lockandkeyevents.com/HPA to ATTEND FOR $15!

Lock and Key Events are the new, interactive and FUN way to network, meet your match, make new friends....or just to have a great time!

Details of our next Meet-up:

February 11, 2012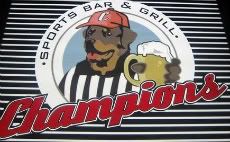 Champions Sports Bar
300 South 2nd St.
Highspire, PA 17034
(717)[masked]

Suggested Age range: 25-55

Check-in: 7:15-7:30pm
Mix and Mingle: 7:30-9:30pm
Prize drawing at 9:15pm
Done at 9:30pm and then stay & party until closing with no cover!!

INCLUDES:
2 Raffle tix for the prize drawing (Prepaids ONLY), PARTY DRINK SPECIALS: $2 Domestic Drafts / $3 Well Drinks, Free admission to stay and hear the DJ spin tunes after our party. The use of hardware and materials, the chance to win great prizes, and the opportunity to mix, mingle, and possibly meet your match!

Register at www.lockandkeyevents.com/HPA!! Use the code HPAVAL to prepay online and attend for ONLY $15. If you don't wish to prepay for this event, you can pay $25 CASH at the door IF you put in an RSVP. Otherwise, it's $30 at the door!!


Everyone will receive either a lock or a key which will be the conversation starter when approaching someone new. For every match you make, you`ll earn an entry into a prize drawing at the end of the evening.

Don't forget to prepay at:
(and don't forget to enter promo code HPAVAL for your special rate - SAVE $10)
PRIZES! Such as one $50 CASH, gift certificates and more on our event calendar:
www.lockandkeyevents.com/HPA
THIS IS A GREAT DEAL!
We look forward to seeing you at the party!


See you there~
Sherry
[masked]
[address removed]