Announcing a new Meetup for The Houston Electronic Music Fans Group!
What: Blank & Jones at Stereo Live
When: Friday, February 26,[masked]:00 PM
Where:
Stereo Live
6400 Richmond Ave.
Houston, TX 77056
[masked]
Feel the music and forget about all that goes on in the world. Take a Journey into the depths of your inner dance music self with Trance Duo Legends Blank & Jones. This is one of those shows you look back on and remember how great the night was.
77002.com and Insomniac Present
Blank & Jones at Stereo Live
w/ Special Guest Benjamin Dubose and El Nino
Funk Lab Patio:
Tager and Funk
Alex C
Bjorn Larsen
Darren Sterling
$10 Tickets to First 50 Purchasers
http://fla.vor.us/168765-Blank-and-Jones-tickets/Blank-and-Jones-Houston-Stereo-Live-February-26-2010.html
Watch Blank & Jones Mega Song of the Decade "Cream"
http://www.youtube.com/watch?v=ROyzPjMSQeM
Watch Blank & Jones hit song "Beyond Time"
http://www.youtube.com/watch?v=TD3Gsk9KSbw
About Blank & Jones
It's been exactly 10 years now that the world's famous DJ Mag wrote these words about Blank & Jones: "...two German trance-meisters who clearly believe in eating raw meat for breakfast..." (DJ MAG May 1999)
Over the past decade, the two producers have released 10 artist longplayers, more than 20 singles (all of them charted in the Sales Charts) and also founded their very own label SOUNDCOLOURS plus set up their own music publishing. So they are totally independent in the music industry.
http://www.blankandjones.com/portal.html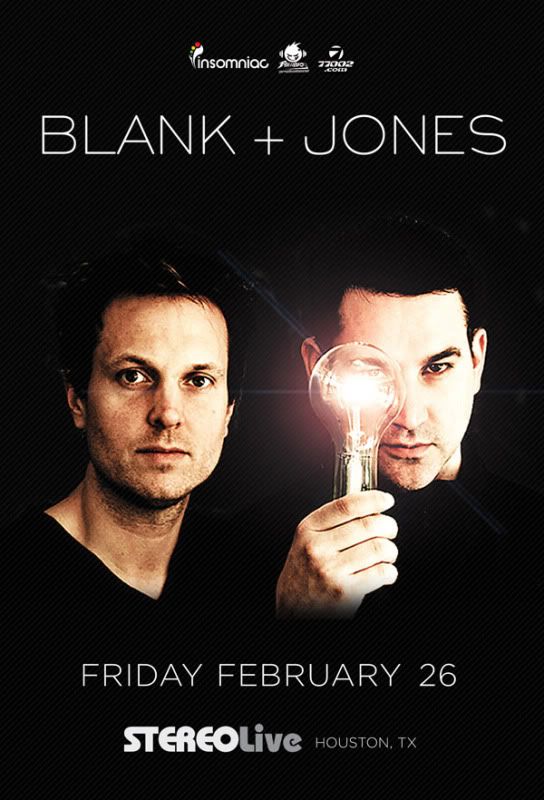 Learn more here:
http://www.meetup.com/The-Houston-Electronic-Music-Fans-Group/calendar/12440691/