2012 New Year's First Run!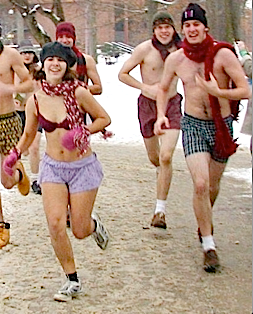 OK, That's A Little Insane!

Much Better!


It's Also Irene's Birthday!


* New Year = New You *

Get Motivated Stay Fit!
New Year's through April is
when people gain the most
weight and get out of shape.

You joined The NYC Runner's Group
for motivation to run,
and to keep running.
And now that the weather has
gotten colder, you'll get and stay
motivated when you run with
our group!



After we run we'll go for drinks &

reward ourselves for our efforts
and welcome in the New Year
and toast Irene on her Birthday!



The Tough Get Going ...
Stay Motivated!
Or You'll Gain 10 Pounds

Of Winter Fat
The New York City Runner's Group
keeps you motivated to run
and to keep running.

J o i n U s A s
W e R u n
A n d T h e n
G o F o r D r i n k s !
Make A Commitment
To Achieve
Your Goals In 2012

There Is Often A Big Gap Between
Our Good Intentions And Our Actions.
-The Dalai Lama
Want To Run A Marathon In 2012?
A Half Marathon?
A 5K Race?

Or - Do You Just Want To
Stay Motivated And Get Fit?
Winter Is Here,
There Is No Better Motivation
Than Running With a Group.
Get Motivated Stay Fit!
Join us and keep running and by
next Summer you'll be fit enough
to try this:

Or stay home and lay on the couch all
warm & comfy in your fluffy blankie,
&
Scratch your butt, watch TV and
feast on Pizza and Chips
and by next Summer
you'll only be able to do this:
Get Motivated!
The Central Park Reservoir Loop

Sunday, January 1st, at 3:00 PM

We'll meet at the usual spot,
at the bench on Central Park West,
at the corner of W. 86th St,
right by the entrance to the park.

Subway: The C train stops right there.
The 1 train stops on 86th & Broadway.
Reservoir Loop Map & Details Loop
New Year's
First Run!
Try to arrive around 3:00 PM. Keep
in mind that on weekends, the trains
aren't always on time. We'll have
about 30 minutes to meet & greet, &
we'll start running at about 3:30.

If You Arrive late:

In case you arrive late,
after 3:30, just walk right into the
park at the West 86th street entrance
& walk straight ahead onto the path
surrounding the reservoir.

I'll be wearing a black DGA
(Directors Guild of America)
baseball hat and I have blond hair.
That's me in the center:

As always, I'll have a car where
you can put any of your stuff in
if you like, while we run.
For New Members And
First Time Runners:
Our group is a group of runners
from mostly professional fields.
Great people to run and to
socialize with.
Plus, after just your first run
with us, the workout and the
running tips you receive, will
make you a better runner.
Guaranteed.

Once again, it's cool if you're just
getting going as a runner. You won't
be the only one. I'll give you
running tips & you'll improve rapidly.
We're a cool & friendly bunch.

You'll get inspired and have fun and
soon you'll be in great shape.
After we run & our endorphins
have kicked in for a turbo-blast
known as a runner's high,
we'll go have drinks, socialize
& spread some New Year's Cheer.

We'll be going to a nearby
cool Bar/Lounge where we can
drink and socialize.

All Drinks Will Be

1/2 Price Until 10

For those who want to grab
a bite to eat, there will be a
wide selection of affordable
tasty food to choose from.
u
The sweet potato fries rock!

Joining us will be members from:
The New York City Filmmakers Group
The New York City Actors Group
Check out:

Once again we expect a good
good turnout & lots & lots of fun.

If you have any questions,
shoot me an e-mail:
New Year's
First Run!
Don't miss the fun
Join us on Sunday

January 1st

RSVP Now!

****