Ladies and Gentleman,
Tonight the Met organ, one of Toronto's pre-eminent instruments, will be worked to its limits by Bach, Franck, Vierne, and Widor's Organ Symphony No. 6. Mozart himself called the organ the 'King of Instruments' and this concert's giving us the physical experience and the organic storm of sound and rhythm that the organ is. So put aside your discs and your vinyl, they're paltry little souvenirs of an actual concert, and come out and join us.
Buy your tickets here.
Karen Christianson – Organist
MAY 24TH[masked]:30pm

General Admission: $40.00,
Senior $35.00
Students $30.00 or at a reduced rate with a Festival Pass.
PROGRAMME
Fête - Jean Langlais [masked])
Aria, from Symphony No. 6 for Organ in B minor - Louis Vierne (1870–1937)
Prelude and Fugue in E minor (BWV 548) - Johann Sebastian Bach [masked])
Toccata Electraca - Carson Cooman (b. 1982)
Ride in a High Speed Train - Ad Wammes (b. 1953)
Pièce Héroïque - César Franck (1822–1890)
INTERMISSION
Symphonie pour Orgue, No. 6 - Charles-Marie Widor [masked])
I. Allegro
II. Adagio
III. Intermezzo
IV. Cantabile
V. Finale
THE ORGANIST
Karen Electra Christianson is a student at The Episcopal Academy in Newtown Square, Pennsylvania. Karen last performed in Toronto at Metropolitan United Church in 2009 at the age of 13. Since then, she has performed at numerous venues in the US, including the Princeton University Chapel, Adolphus Busch Hall at Harvard University, the Cathedral of Our Lady of the Angels in Los Angeles, Grace Cathedral and St. Mary's Cathedral in San Francisco, St. Philip's Cathedral in Atlanta, the Cathedral of St. John the Divine in New York City, and the National Cathedral in Washington, DC. Additionally, Karen has performed at several European venues, including Ely Cathedral, Coventry Cathedral, and Great St. Mary's Church in Cambridge, England, the Bovenkerk in Kampen, Netherlands, and St. Paul's Anglican Church in Athens, Greece. Karen has also been featured in several radio broadcasts in the US. In addition to her recent performance on "From the Top" on National Public Radio, Karen has appeared on Philadelphia radio stations WRTI and KYW, and the New Jersey Classical Network, WWFM. Karen studies organ with Alan Morrison, head of the organ department at the Curtis Institute of Music in Philadelphia.
Read more about Karen Christianson here.
*****
TFCM will be proud to give away one concert ticket...
...to the Closing Gala Concert for Friday, June 7. To qualify, you must be a current member of TFCM, and you must purchase and attend at least one Organix 13 concert. A draw will be held to select the winner.
*****
ORGANIX has a long-standing commitment to make concerts as appealing and affordable as possible. You may consider buying a Pass, even if you are only able to go to two concerts. This year ORGANIX has created new Ticket and PASS categories offering three price points for each, General, Senior and Students. Seniors are 65 years of age and older. Students refer to University students with a valid ID. ORGANIX continues its Free Admittance policy for those 18 years of age and younger - The Toronto Theatre Organ Society Concert at Casa Loma with Mark Herman is excluded.
Tickets
Tickets for six of the eight regularly scheduled concerts, each is priced as General Admission $40.00, Seniors: $35.00 and Students: $30.00 (includes HST). For your convenience or for gift-giving, should you wish for your tickets or passes to be mailed in advance of the concert, a $3.00 mailing and handling charge is applicable. Otherwise, the ticket will be available at the ticket desk one hour before each concert.
Gala Tickets
The Gala tickets are for concert  Chelsea Chen with violinist Lewis Wong (June 7). The  Gala concert has only a General Admission price at $55.00, (includes HST) and may be requested by phone (416)[masked] or email [masked].  (Please go to the FESTIVAL PASS page for order details)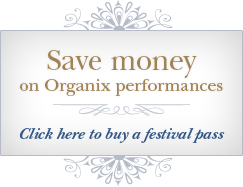 We wish to thank Mr. Gordon Mansell for his very generous support to TFCM.