Black Bunny Latex Shoot
This shoot definitely has the wow factor. A highly stylized dark aesthetic brought to you by an incredible creative team. Our model is the gorgeous Ms. Violet Love, who is not just an experienced model but an accomplished clothing designer with her own line of latex clothing which we will be using for the shoot. Our MUAH is the incredibly talented Ivy Lam, and this mask is by a celebrated craftsman and artist in California, Tom Banwell, whose work has appeared in Vogue magazine.
Check out the Mask!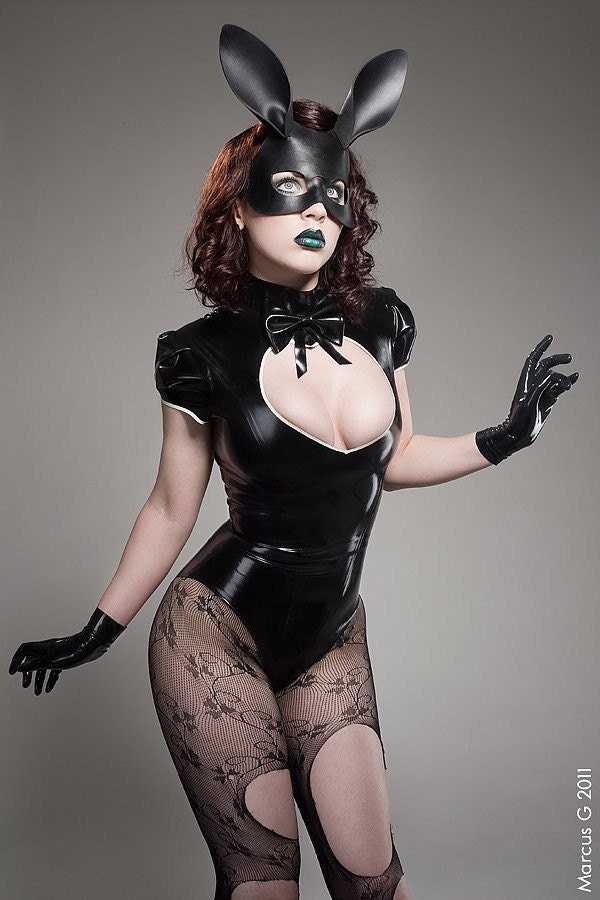 Now check out our gorgeous model!
Our Model and Fashion Designer is Lady Violet Love
Violet is not just a gorgeous experienced model she is also a talented clothing designer and we will be using some of her fantastic latex pieces for the shoot. Check out her clothing line here:
https://www.facebook.com/LadyVioletDesigns
Our Make Up and Hair Artist is Ivy Lam
Ivy has collaborated with a wide variety of talented photographers including Arline Malakian, Barbara Cole, David Hou, Jason Wills,Walter Singh, Richard Dubois, and Yuri Dojc. As well as clients ranging from Alfred Sung, Elegance Bridals, Franco Mirabelli, and Tim Hortons to name a few.

Ivy's editorial work has appeared nationally and internationally in magazines such as Salon, Sasson, Ion, Tribute Studio, Launchpad, Vision, and she is currently the beauty Editor for Blink Magazine.
Ivy has worked with countless celebrities, including Ang Lee, Emile Hirsh, Ellen Page, Steve CooganLeighton Meester, Ray Emery, Denys Arcand, Bruce Macdonald, Michael Pitt, Johnny Reid, Stephan Moccio, Caitlin Cronenberg, Jamie Bochert, Elijah Kelley, Rachelle Leverfre, Bam Margera
Ivy's TV credits include, So You Think You Can Dance Canada , Flashpoint, Passhendaele, Paris 36, Mad Violet, Bratz,
Our Location Host: Richard Dubois' Studio
This shoot has a strict participant limit of 6 photographers.
A wait list will be made available if needed.
This shoot is a fashion editorial styled shoot, with black latex and alternative style aesthetic. There is no sexual themes or nudity for this shoot. This shoot is suitable for photographers of all levels. Feel free to join us even if you are a complete beginner. We talk you through every step and help you along the way. We take the guess work out of the lighting and help with your camera settings so you can just shoot and enjoy yourself!
We shoot with high quality elinchrom strobes, and can also make use of the fabulous natural light in the studio.

Please note our refund policy is as follows. We will give full refunds in the case of cancellation or rescheduling. We do not do refunds if you cancel, however we will reattempt to sell your spot in which case we will offer you a full refund. We need a minimum number of participants to go forward and will notify you when this shoot is green-lighted.

Any questions, always feel free to ask! In the meantime, here are a few more photos of our gorgeous model and our fantastic mask: