Tessa LeSage, Sustainability Coordinator for Lee County is the current co-ordinator for SWFL Green Drinks which is part of a larger, International organization operating all across the globe.
Fort Myers Green Drinks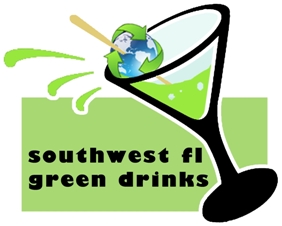 COME TO OUR NEXT FREE EVENT:
2nd Tuesday of each month
6-8 pm

NEW LOCATION Hotel Indigo in Downtown Fort Myers
Roof Top Bar
1520 Broadway, Fort Myers, FL 33901

Network with the United States Green Building Council SWFL Branch and other green-minded professionals.
Green Drinks is an international self-organizing network of green-minded folks who meet once a month at their favorite watering holes. The Hotel Indigo has taken great green strides and as a result has been recognized by the Florida DEP's Green Lodging Program.  Our kind of place!
You can also follow us on Facebook!
For more information or if you are interested in sponsoring, contact: 

[masked]
Come be a part of the big picture and connect with others who have passion for Green! The SWFL chapter has been quite successful in getting good attendance each month from all sorts of local professional and practitioners with "Green" or "Sustainability interests. Anyone seeking more information about local Green initiatives, Green building, Green lifestyle or the like should attend and feel free to bring other like-minded colleagues along.
This is a great opportunity to get to know other professionals, business owners and service providers who work in fields related to the environment, green products or services or simply have passion for helping to forward sustainability initiatives. It is an easy-going group with plenty of lively conversation about a range of interesting issues and topics and there is often a short presentation of some sort to kick things off. It usually runs until 8:00 p.m.
So mark your calendars now and come out and meet, mingle and network with others who share your concern for the environment and our future sustainability. Hope to see you all there, Marjorie
P.S. Although I try to attend the monthly gatherings, I can't always make it - please feel free to go on your own or as a group - there will always be many people to network with from the community at large. As the co-ordinator of Green drinks, Tessa LeSage is almost always in attendance.