Celebrate the Opening Reception for Jim Stein and Rick Gerrity. Stop in anytime between 6:30pm-8:30pm to enjoy refreshments and view both galleries.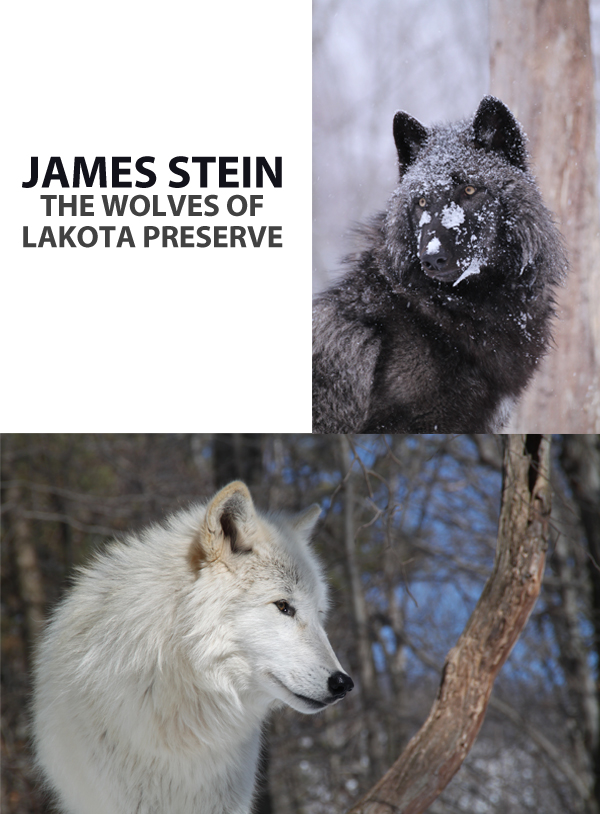 Jame Stein's "Wolves of Lakorta Preserve" features his remarkable images of his beloved wolves.
James Stein, a native to Warren Township New Jersey, always had a love for animals.  Fourteen years ago he left a professional career as a Certified General Motors Technician, a position he held for sixteen years, to begin a dramatic career change as owner of Lakota Wolf Preserve in Columbia, New Jersey. Partnering with another, Jim was able to provide a safe haven for wolves where they can be free from hunters, roam on acres of land, and live a fulfilling life.  His preserve educates the public about wolves and allows them to see them in a stress free environment. Jim's devotion for the wolves is strong and ever so noticeable. He devotes every day watching over them, right from their adolescents years. The wolves at Lakota have accepted him as part of their pack, this rare bond has allowed Jim to capture them through photography and share with us some very up close and personal images of a magnificent animal.  Rick Gerrity and John Bentham's "Unforgettable Faces" features compelling images you will always remember.
This project was undertaken to provide professional portraits for the families of deployed military personnel.  The images were made in Gulfport, Mississippi a community with a vast military population.  As the father of a U.S. Marine who was deployed in Afghanistan at the time I was proud to be part of the project and it was very meaningful to me personally.  John Bentham, a friend of mine and professional photographer as well, agreed to join with me enabling us to have two studios.  All told we ventured out on a 2800 mile road trip with our equipment in tow.  The military families we had the honor of photographing brought tears to our eyes as we realized just how much our project meant to them.
Rick Gerrity [http://www.rickgerrity.com] has been a professional photographer based in the NY/NJ metro area for over twenty-five years. Rick Gerrity has been a professional photographer based in the NY/NJ metro area for over twenty-five years.  He specializes in people, product and location photography throughout the United States and Canada. Rick has a passion for transforming seemingly ordinary, everyday moments into extraordinary images.