Pathfinder Society Organized Play!
Pathfinder Society (PFS)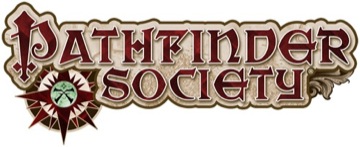 In an organized play campaign, your character exists in a common setting shared by thousands of other gamers from around the world. In each Pathfinder Society game, your character experiences adventures in two different ways. The first is a short, one-sitting adventure (or "scenario") that is a single episode in a continuing story and generally lasts four to five hours. The second is a longer, multi-session adventure (or "module") that is a single adventure but can take anywhere from eight to twelve hours to play.

You can take your character to any public Pathfinder Society event anywhere in the world, and while the Game Master and your companions might change every time you play, your character advances as normal. Over time, campaigning in an organized play environment offers a uniquely immersive experience, as your diverse companions add depth and character to the campaign world. It's also a great way to get in touch with other local gamers, meet new people, and play regularly without all the prep work and scheduling of a traditional campaign. Your local regional coordinator (also called a Venture-Captain or Venture-Lieutenant) can assist you in finding or setting up your own Pathfinder Society event.

Main Information site:
http://paizo.com/path...

Join PFS:
https://secure.paizo....

Additional Links:
http://paizo.com/path...
http://paizo.com/path...
http://paizo.com/path...