Looking for new ideas and chances to network so your business can grow?

To grow your business and network with more web techs, check out the list of great activities below.
Boost Denver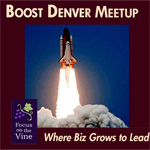 Web professionals are offered free workshops to grow their business.
Held twice a month at 8:00 am in Greenwood Village.
Wed. Nov. 10 - Capture It! Grow Your Business with Brilliant Photography (& Happy 1 Year Boost!)
RSVP (Limited Size)
Boost Denver Meetup
Webtechs Happy Network Hour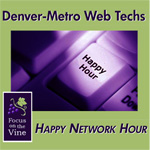 Cheers! Network & mingling for the web professional community.
Next Happy Hour ? Thurs. Nov. 11 at 4:30 pm at The Hornet in South Denver.
RSVP & Join the Fun
Webtechs Happy Hour Meetup
Angel Capital Summit
A Financial Investment Event for Entrepreneurs
December 6-7, 2010, University of Denver, Daniels College of Business
Angel Capital Summit
Crankset Group
A business coaching group for entrepreneurs.
RSVP: Nora -[masked], [address removed]
Lifetime Goals Workshop
Gain a clear picture and a new motivation for how your business can get you where you want to be!
Thursday, November 18, 1:00 pm ? 4:30 pm DeVry University- Tuscany Plaza, Rm. 118, Greenwood Village, CO 80111
RSVP & More Details
www.CranksetGroup.com
University of Entrepreneurs
Free workshops for entrepreneurs of all backgrounds & experience levels.
Building a Financial Plan to Successfully Attract Investment
Tuesday, November 2, 5:45 pm ? 7:45 pm in Denver
RSVP & More Details
Mission and Vision Revisited - Kathryn Alexander and Marty Koenig
Thursday, November 4, 6:00 pm ? 8:00 pm in Denver
RSVP & More Details
Creative Connections
To foster working relationships among local creative pros.
Friday, November 5, 9:00 am in Englewood
RSVP & More Details
Creative Connections
DTC Leads Site
?DTC Leads is recruiting new members to join our dynamic lead-passing team. Visit, representing an open business category, and we?ll buy your first lunch.?
First Three Thursdays of each Month, 11:15 am in Greenwood Village
RSVP & More Details
DTC Leads Site
Abundant Returns,
Dru Shockley
www.focusonthevine.com