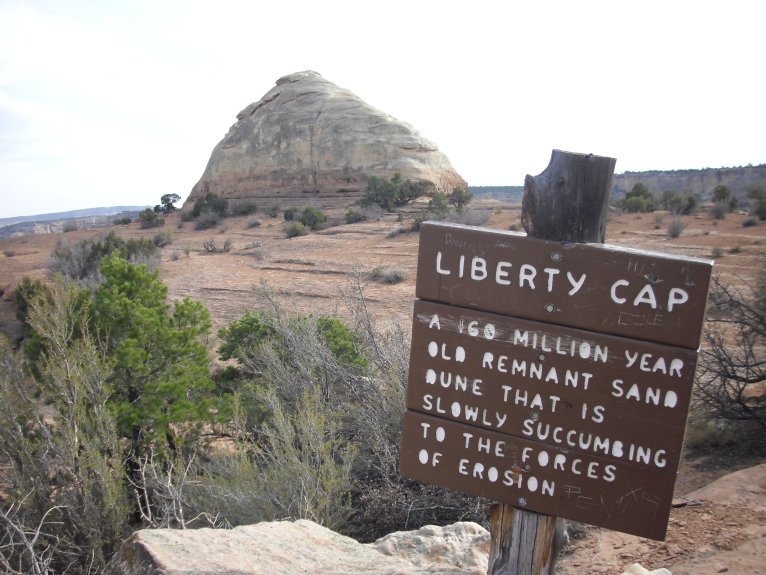 Notes: 
1.  Per Wes'es suggestion we will go up Liberty Cap via the Corkscrew Trail.  If you prefer to take the main trail up (and you know the trail), feel free to hike the standard route.  Also if you need to hike early or arrive late please come out and enjoy the great fall weather!!
2.   Also, please bring a headlamp as it is completely dark by about 7:45 on the east side of the mesa.
General Information:
Finish September by completing the Liberty Cap hike from the Wildwood Trailhead.  This is one of the inconic Grand Junction hikes featuring an interesting and moderately demanding trail,  beautiful views and the chance to either push yourself or have a slower paced and more social hike.  From the trailhead to the top of the cap is approximately two miles one way and four miles round trip.
This is a self paced conditioning hike.  The start time will be  6:00 p.m. which should give most people the chance to get off of work and get to the trailhead in a low stress fashion, but - feel free to show up early or show up late, hike as little or as much of the trail as you wish at whatever pace (fast or slow) you choose.
Self paced means that each person will hike at their own pace and fitness level.  We will probably not remain in a single cohesive group but will likely form into smaller groups of two or three people.
Note:  If you are just beginning a hiking or fitness program, you may not want to walk the entire trail.  The point of these hikes is three fold:  1.  Meet other members of the group.  2.  See some beautiful scenery.  3.  Work on or maintain your fitness level.   Even if you only walk one mile you will still achieve all three goals.
Directions:
The trailhead is marked (with a trail head maker at the "parking lot" entrance).
A google map link is posted at the top of this announcement and here: 
https://maps.google.com/maps?f=q&hl=en&q=416+Wildwood+Dr.,+Grand+Junction,+CO,+81507,+us
Bring:
Required:
One liter/65 ounces of water (one standard size Nalgene) Two liters of water is recommended.
Serviceable footwear (Hiking Boots, Hiking Shoes or Running shoes - please no Tevas or sandals).
A headlamp and/or flashlight and extra batteries.
Recommended:
Sunscreen and Insect Repellent
Optional but not a bad idea:
Trekking poles if you regularly use them
A snack - CLIF Bar - cookies etc.
Additonal Information:
Google map link to the Fawn Lane Trailhead:
The group will wait ten minutes for late comers but will depart the trailhead no later than 6:10.  If you are running late and are familiar with the trail please come out and complete the hike.  I am not a "clock nazi" but owe it to the group to start the hike in a timely manner.
Dogs:  No hounds are allowed in the Colorado National Monument
Cost:  Free since we are not parking within the park boundary
Contact: Mike White at[masked]
Know and hike within your limits.