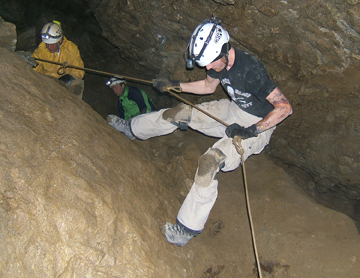 Date: Tour will be June 30, 2013 at 2pm.
Price: $30 per person + $15-20 for gas for the driver.  When RSVPing please email Isaac (through his profile) to arrange payment.

Temperature: It is usually a balmy 40ish degrees in the caves, even in the summer, so pack according.
Regarding Guests: I have limited the ability to RSVP with guests.  If you wish to bring a guest please email me.
Checklist: Please be sure to read the Group Checklist found in the Files Section of the Willamette Valley Outdoors Meetup Page prior to RSVPing.
Important: This is a strenuous activity in a tight space, if you are claustrophobic or have never been on a cave tour or caving, please don't RSVP for this.  Please read the full write up and website prior to RSVPing.
Write-up from Website: Experience the wondrous, wild areas of Oregon Caves National Monument off trail! Trained guides will teach you caving techniques, cave etiquette, and bring you face-to-face with the marble structure of Oregon Caves. This three-hour experience through tight squeezes and crawls will challenge and exhilarate you!
This is a very strenuous, adventurous experience. Scramble boulders, belly crawl, negotiate uneven rock piles, and squeeze yourself through confined cave passages as small as 11 inches by 19 inches. The only source of light is your caving headlamp!
Nestled deep inside the Siskiyou Mountains, the caves formed as rainwater from the ancient forest above dissolved the surrounding marble and created one of the world's few marble caves. The highly complex geology found on the Monument contributes to the unusual and rare plants and animals found nowhere else but here. Experience the extensively decorated and adventurous "Marble Halls of Oregon."
More Information: http://www.nps.gov/orca/planyourvisit/off-trail-caving-tours.htm