COME JOIN US ON OUR 3RD JANUARY CRUISE!
IT'S A GREAT TIME TO GET OUT OF THE COLD AND VISIT SOME PLACE WARM!
FOR RESERVATION FORMS, YOU CAN FIND THEM ON OUR NEW WEBSITE:
www.womenstravelgroup.us    under the upcoming trip tab!  Or you can request them from Janice at Flynn Travel (978) 667 8513.
LAST YEAR THE WEEK WE WERE GONE IT WAS THE COLDEST WEEK OF THE WINTER WITH TEMPS NEAR ZERO ALL WEEK!
LET'S GET AWAY AND MAKE OUR OWN JANUARY THAW!
JAN. 19, 2014  SOUTHERN CARIBBEAN ROYAL CARIBBEAN CRUISE~ DEPART SAN JUAN, PUERTO RICO -
Ports of Call:  St. Thomas, St. Kitts, Aruba and Curacao.
WE NEED A MINIMUM OF 9 CABINS, singles or doubles. (This is to hold blocks of space:)
We are limiting the group size to 20.
I am flying out a day early to spend a little time in San Juan before we hop on our ship on Sunday, to enjoy great food and entertainment with Royal Caribbean Cruise Lines. (I always like to arrive a day early just incase there are issues with flights weather etc.).
It is to early to book pre cruise hotel, pricing not available yet.
Air port transfers are not included (last year we got tickets at the airport, right next to baggage claim, we will do so again, I think round trip was about $30+/-)
7 night cruise on the Adventure of the Seas - Ports of call - St. Thomas, St. Kitts, Aruba, Curacao.  (Do remember, if you don't want to leave the ship you don't have to, I sometimes just say on the ship and enjoy an empty pool area and restaurant:)
Prices: These prices include all port taxes and government fees on cruise.
inside double $[masked] - catagory N
inside single $[masked] - catagory N
inside promenade double $740.80 - catagory PR
inside promenade single  $[masked] - catagory PR
balcony double $[masked] - catagory E2
balcony single $[masked] - catagory E2
Group pricing for the cruise is no longer available.   Please call for current pricing.
OUTSIDE cabins are available - but I am not able to hold them without names / deposits.  If you are interested in an outside cabin, please call Janice at Flynn Travel for prices.
ABOVE CRUISE PRICING ONLY, NO AIR INCLUDED -JETBLUE IS NOT SELLING THESE DATES YET - ONCE JETBLUE OPENS THEIR SCHEDULE, I WILL TRY TO GET GROUP PRICES, SHOULD BE VERY SOON.  (JET BLUE DOES FLY DIRECT AND ONCE AIR IS PUBLISHED SELL OUT PRETTY QUICKLY, SO GET ONBOARD FOR THIS CRUISE EARLY TO GET THE DIRECT FLIGHTS:)  JANICE CAN ONLY HOLD GROUP FLIGHTS FOR 3 DAYS AND THEN HAS TO REQUEST THEM AGAIN, ONCE FLIGHT STARTS FILLING UP THEY MAY NOT EXTEND GROUP RATES ANY LONGER.
DIRECT FLIGHT FROM BOSTON TO SJU IS 4 HRS.
CALL JANICE AT FLYNN TRAVEL IF YOU HAVE ANY QUESTIONS   [masked]

Cancellation insurance for the cruise only (air not covered) $89 - $119 per person - price depends on cabin type - due at time of final payment.
Deposit for Cruise:
Deposit - For a double cabin $250 for cruise (due at time of reservation) - $200 will be refundable up until Nov 1st. For a single cabin $500 (due at time of reservation) - $450 will be refundable up until Nov 1st.
Final on cruise due by Nov 1th.
Cancellation insurance on cruise due with final payment.
Cancellation Policy:
Airfare is non refundable once purchased - - .
Cancellation penalty for cruise - between now and Oct 31 - $50 per person.
79 days to 57 days prior to sailing $300 per person
56 days to 29 days prior to sailing 50% of cruise cost
28 days to 15 days prior to sailing 75% of cruise cost
14 days or less – no refund
This trip is also posted on my other travel groups and is open to all genders, not that we have had any men join us yet....lol
ADVENTURES OF THE SEAS
We've taken cruising to a whole new level. Enjoy one-of-a-kind features like an ice-skating rink, the Royal Promenade and a rock-climbing wall just for starters. How did we accommodate all of these innovative ideas on one cruise ship? Simple. We built a bigger ship.
Adventure of the Seas Ship Review
A wonder of engineering, RCI's "Adventure of the Seas" is a sight to see. Featuring everything from a street fair, rock climbing wall and even an ice-skating rink! This 138,000-ton, 3,114 –guest ship is part of the Voyager class of ships, with innovations highlighting the highest space-per-guest ratio in cruising. Enjoy the enhanced staterooms, expanded dining options and amazing recreational facilities.

Main Dining Room - The three-tier dining room features a wide variety of menu items and impeccable service.
Johnny Rockets Restaurant - Step into our '50s diner, which features red naugahyde booths, formica counters, a jukebox, burgers, fries and, of course, good old-fashioned malted milk shakes.
Windjammer Cafe - This seaside café offers buffet-style breakfasts and lunches. In the evenings, the café's casual atmosphere is complemented by a changing menu and restaurant-style service.
Adventure Lyric Theater - Our theater - five stories from orchestra pit to domed ceiling - features contemporary musical stage productions.
Conference Center - Our comfortable conference center features state-of-the-art presentation equipment and a variety of meeting rooms.

Rock Climbing Wall: Royal Caribbean cruise ships are the only ones in the world to offer rock-climbing walls. Whether it's your first time on a rock wall or if you're a seasoned climber, there are challenges for all levels of experience. Royal Caribbean will provide all of the equipment, including shoes, helmets and harnesses. All you need to do is bring a pair of socks and, of course, your sense of adventure.

The Royal Promenade, cruising's first horizontal atrium, is two football fields in length and four decks high. With a wide selection of shops, restaurants and entertainment the Royal Promenade will be the place to be.

Ice Skating Rink. Take a shot at a double axle in the only ice skating rink at sea. Or, once the rink is converted to a stage, settle in for an unforgettable show in the same unique area.
Adventure of the Seas Specifications
DAY ONE  -    SAN JUAN
DAY TWO -    ST. THOMAS
DAY FOUR -   ST. KITTS
DAY FOUR   - AT SEA
DAY FIVE    -  ARUBA
DAY SIX    -   CURACAO
DAY SEVEN  -   AT SEA
DAY EIGHT -  SAN JUAN
The 138,000-ton, 3,114-guest Adventure of the Seas. Innovations on this and other Voyager-class cruise ships add up to more space for every guest and include enhanced staterooms, expanded dining options and exceptional recreational facilities.
Ship Stats   Gross Tonnage 142,000 Length 1,020 ft Max Beam 157.5 ft Draft 29 ft Cruising Speed 22 knots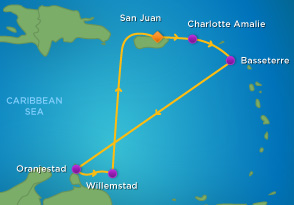 REST & RELAXATION
VitalitySM Spa

with 100+ treatments including massages and acupunture

4 pools including the Solarium, an adults-only retreat*

6 whirlpools

State-of-the-art Fitness Center, with classes including yoga and tai chi
*During inclement weather and select hours, the ship may permit the Solarium Pool to be used by persons under age 16 provided they are directly supervised by a parent or guardian.