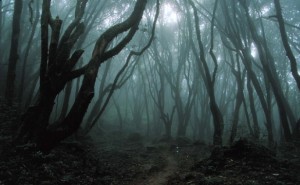 What could be scarier than a dark, decorated forest with Halloween costumes jumping out at you? The answer is a lot of things, however this will be sufficiently scary.

We'll meet by the haunted ticket booth around 7:30 to buy tickets to the Petrified Forest and lazertag (sold as a bundle). Besides the trail, there was a bunch of fun things to look just by walking around: some employees (presumably) running around and wreaking havoc in costumes, a creepy photo thing, plus some good people watching. I'd expect to be out until around 10 or so. We might also grab food afterwards (I'm thinking Steak n Shake).
If you have any trouble finding the group, need directions, running late, want to test your new phone, etc., feel free to call/text me at (407) 921-0775.
Bring:
- Bug spray for the haunted mosquitoes. I'll have some extra on me, or if you want to ixnay on the bugspray and risk it, more power to you.
- Lazertag-friendly clothes, unless you just want to watch.
- $22 (not that scary considering what you're getting.  If you're not feeling the lazertag, it's only $17)
- Extra money for food, or just eat ahead of time.