You are invited to the following event:
Event to be held at the following time, date, and location:

Strategies for Wealth
140 Broadway
22nd Floor
New York, NY 10005

Sponsored & Recommended By Zorka Kovacevich

Learn How To Rock Your Buck!
Tickets: $5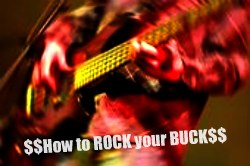 The way to abundance is a one way street-- there are no two way s about it! You are either heading for lack, or heading for abundance."
Florence Scovel Shinn, Author, "The Game of Life and How to Play It" [masked])
---
After your review, should you find this event of personal interest, I hope you will RSVP to join us.


Please reserve early--entry is extremely limited to a maximum of 15 guests. (tickets are available on a first-come, first reserved basis.)
...
Read More
---
This event promises to be a valuable learning experience and I look forward to seeing you there!

Kindest regards, Zorka
Zorka Kovacevich
Meet.com Networking Organizer
---

Thanking you in advance for sharing this event with your friends and

colleagues

on Facebook

and

Twitter.