Dear All,
The idea would be to walk towards the beautiful Rothornhuette (3200 meters). Right behind the hut is the Glacier and from here you have views to all 4000 Mountains. From Zermatt (1650 meters) it takes 1600 meters up - 4, 5 hours to get to the hut. After 1, 5 hours you will reach Pension Edelweiss where you can see the flower with the same name and from which you have a great view on Zermatt. From Zermatt, after 2,5 hours we will reach Berggasthaus Trift (see photo below). From there it is about 2 hours to Rothornhuette. Of course those people who would not like to go all the way to the Rothornhuette but just to Berggasthaus Trift, these are welcome as well and could go a slower pace as the others.
The hike is not technically difficult, however given that 1600 meters are walked up and the same down, you need to have a decent condition. Poles are certainly very helpful for this hike. Total duration of the hike : 7 - 7,5 hours. 
The idea is to take the 6.32 am train arriving in Bern at 7.28 am, departing 7.34 am arriving Visp at 8.31 am. Departing visp 8.43 am arriving 9.52 am.
IMPORTANT
* The organizer is not responsible for any bodily injury or other accidents that might happen during the hike. By signing up on this activity, the participants agree that the organizer will not be held responsible in any way. Although the hike is not complicated, it is each individual responsibility to ensure that they can do the hike and check out the trail.
* To avoid that persons sign up and then cancel last minute, a flat fee of 10 francs will be charged for persons cancelling within 72 hours before the start of the hike (i.e. cancellations on August 6 or later).
* To bring along: hiking boots, poles, rain gear, water, snack, lunch ( I suggest we take lunch on the trails although we can have stops at the various restaurants on the trail), smile, positive attitude, sun-cream, photo camera.
* I have limited this hike to 25 people - please only sign up if you are coming since otherwise you are taking spots away from others.
* In case the weather would be bad, this hike will not take place.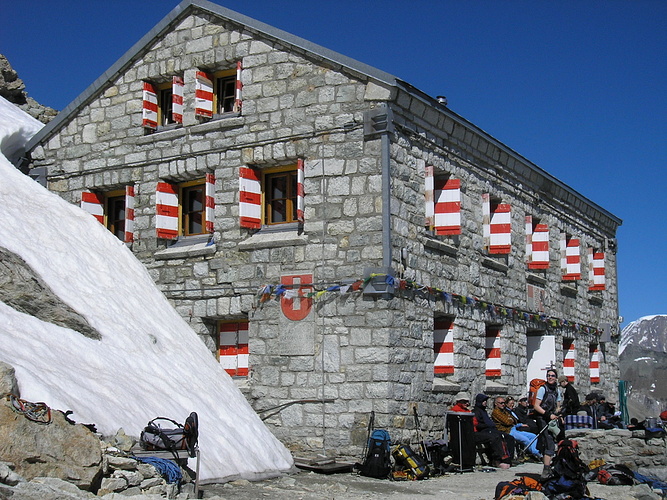 Glacier right behind the hut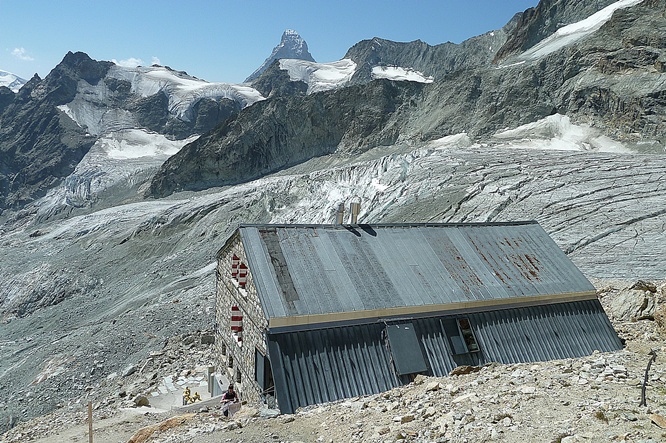 Berggasthaus Trift