Dear All,
Several of you have been to the Grindelwald/Wengen area so I do not need to introduce the area to you. However for those who have never been there, Grindelwald/Wengen is a large skiing area with many blue and red slopes and great views on the Eiger, Monch and Jungfrau. Every year the famous Wengen worldcup skiing downhill (Lauberhorn) is organized here and the area allows, for those interesting in making many skiing kilometers, quite a large variety.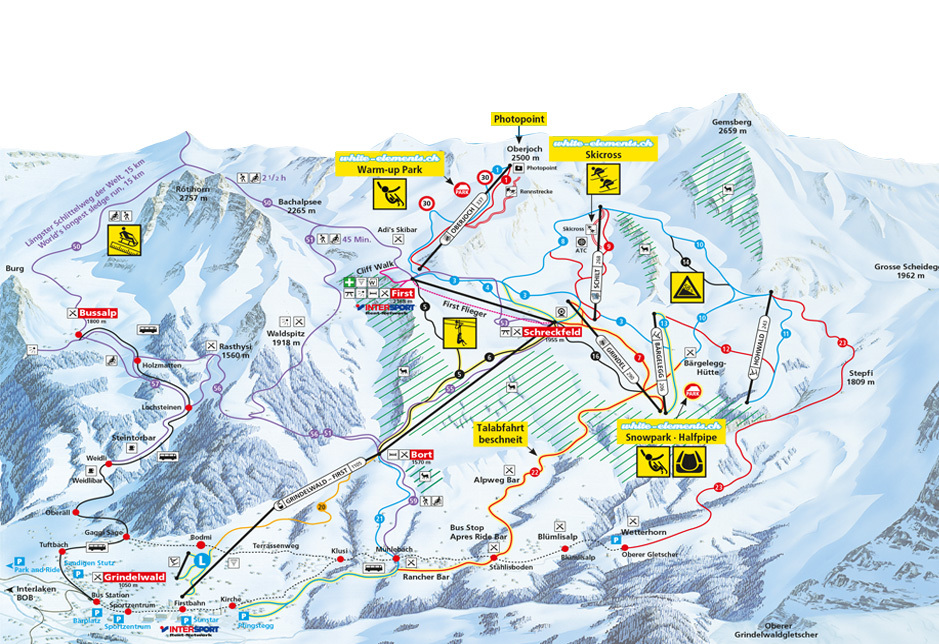 Given that it takes 3 hours by train/bus to get there, the plan is to stay over for a weekend- departure Friday evening around 5.30pm and departing Grindelwald Sunday late afternoon. The winter schedule from SBB is not known yet so by mid December I should be able to provide you with exact details of trains and will update the Meetup site with exact times of train/bus departures.
For those that have never been on a Meetup skiing trip- the concept is simple. Given that there are different levels of skiers/snowboarders, typically smaller groups are being formed by those of equal ability. On Saturday morning and Sunday morning we decide in what mountain hut around what time we will meet for lunch so that everyone can catch up with others, if they like to. In the evening we will have joint dinner and for those who still have flexible muscles after a day skiing there might be some music to dance on.
I have taken an option for 30 spots in a hostel in Grindelwald. The hostel has some double rooms, however mainly 4 bed rooms. As much as I can I will take into account your request for double rooms … please do understand that I put women in the same room, men in the same room (unless couples) so sometimes I have to shift people from room to meet the balance of number of females/males coming. Therefore please do not complain if at the end, I can't offer you exactly the room you were asking for.
Given that Friday night, highly likely we will arrive around 9.30 PM or later, I did not book any dinners, however those who are hungry can of course still get something in Grindelwald.
The prices by person per night for the hostel are: (between brackets the non-member prices are indicated):
·  Double room, shower/toilet:  61 francs (67)
·  4 bed room, washbasin: 44 francs (50)
·  5 bed room, washbasin: 44 francs (50)
The prices include accommodation/taxes/CO2 contribution and breakfast. A 4 course dinner can be booked at a cost of 17 francs. For those who want dinner for saturday night, please add 17 francs to the above amounts.
Therefore for two nights, the total amount is 122 francs or 88 francs for those who are members of youth hostel and 134 respectively 100 francs for those who are non-members. Please add 17 francs to 122/88 or 134/100 francs in case you want to have dinner.For those who do not use electronic banking, but who go to the Post to pay the amount into my bank account - please add 4 francs to the amount transferred, since the Post charges me as recipient this amount for such manual transfers done.
My bank details:
Account number[masked]A 
BIC: UBSWCHZH80A 
IBAN: CH[masked] 8940 A 
Patrick Wellens
8045 Zurich
As you will certainly understand, group bookings in winter needs to be made several months in advance. Since I do not want to take the financial risk of booking a whole hotel and then nobody shows up, I will only make a booking for confirmed payments. Therefore in order to secure our place as a group, can I please ask you to make a transfer to my bank account by October 15, 2013 at the latest. As soon as the payment is received I will obviously update the Meetup site. If there is little interest for this activity, I will cancel this trip.
Looking forward to great skiing,
IMPORTANT
·  In Grindelwald village there are various ski-shops, so for those who want to rent skis/snowboards/snow-shoes etc. this is all possible.
·  I will make a group reservation in trains and buses on Friday night and Sunday afternoon (at no cost). Important to note is that in case the Group does not show up I as an organizer get charged 50 francs (for trains).Therefore please let me know as soon as possible whether you will join the group by train and/or are coming by car. If coming by car, Parking can be done at the hostel however chains are obligatory and there is a 7 francs charge.
·  Everyone is responsible to buy their own train/bus tickets – I only make the group reservation (so that we have space).
·  Please note that everyone is responsible for his/her own acts. It is up to each individual to take out appropriate insurance (off-piste, rescue, hospitality, third -party liability etc.) and by no means this organizer can be held responsible in any way for organizing this ski-weekend.
·  Reservations are made on a first come, first serve basis. Rather than the date someone clicked yes on the Meet-upsite, the date of payment will be considered.
·  There are no refunds. In case you cannot make it, someone else can take your spot till 1 week before departure. To avoid that continuous changes are being made till the last moment and I have to communicate these changes continuously to the hotel and change the room mix, a flat amount of 10CHF will be charged for any changes during the last three weeks prior to the trip.
·  You do not need to bring along sleeping bags, blankets etc. however you need to bring along a towel.
zurich hb departure 16.02 arrival bern 16.58 bern
departure 17.04 - arrival interlaken 17.57
departure 18.05 - arrival grindelwald station 18.39
departure (bus) 18.46 - arrival youth hostel 18.52
Return sunday
departure 16.19 - arrival 16.54 interlaken
departure 17.00 - arrival bern 17.52
departure 18.02 bern - arrival 18.58 zurich hb