Dear All,
As the ski-season unfortunately comes to an end and the days are getting longer you know it is time to  get the hiking boots out of the garage/basement. Luckily we can still enjoy the sun and snow by going higher up.
I suggest to do a long hike towards the Silvretta-huette (2350 meters). From Klosters Monbiel to the hut it is 5 hours one way. Please note that at the end of the hike, as we getting closer to the hut, there might still be some snow, so i am taking snowshoes with me (just in case).
We would take the train at 6.37 am in zurich hb, arrive in land quart at 7.41 am, depart land quart 7.49 am arrive at 8.32 am in klosters, depart by bus at 8.38 am and arrive at 9.08 am in Klosters Monbiel from where we start the hike.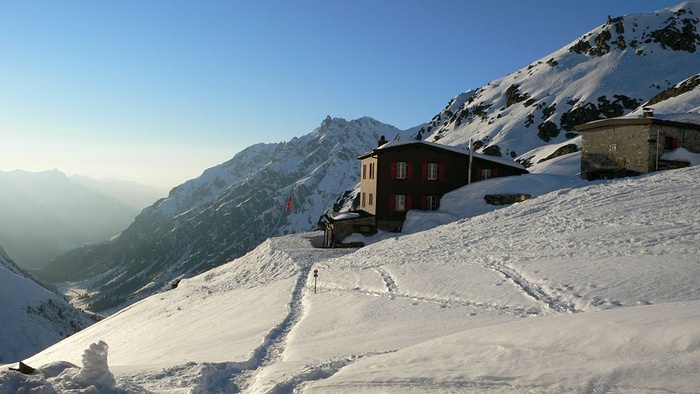 To bring along:
* Raingear (we are in the mountains)
* Good mood/smile
* Suncream
* Waterproof hiking boots
* Water
* T-shirts to change 
* Flip-flops (not for the hike, but possibly when we are back in the train and you want to change shoes)
* Snowshoes
* Photo
IMPORTANT
·  Please note that everyone is responsible for his/her own acts. It is up to each individual to take out appropriate insurance (off-piste, rescue, hospitality, third -party liability etc.) and by no means this organizer can be held responsible in any way for organizing this hiking trip.
* If the weather is not good then this hike will be cancelled and I will go skiing instead.
* Trains and buses will be reserved with SBB from zurich. The reservation needs to be made several working days in advance - in case any alterations are made to the reservation or we do not show up as a group I personally get charged. This has happened in the past. For that reason I expect everyone to adapt their status (coming/not coming) timely and in case of any cancellations after April 21 in the evening a 10 francs cancelation fee becomes due.