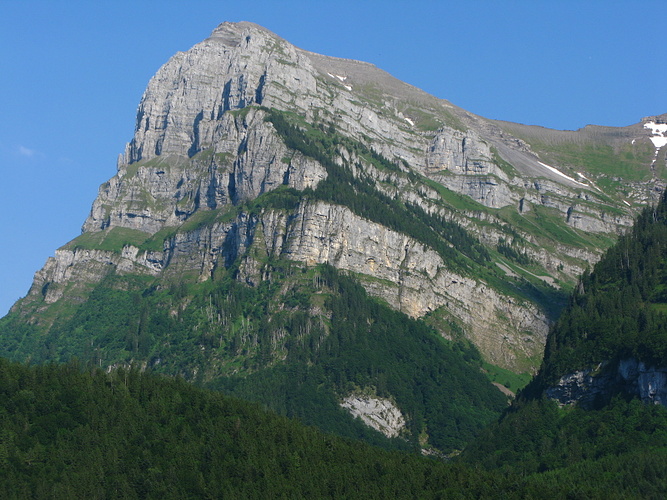 If you've looked across the lake of Zurich on a clear day, you might have seen the 2327m Vorder Glaernish towering above the Glarner Alps, eclipsed only by the Vrenelisgaertli. Despite its seemingly imposing vertical wall, the Vorder Glaernish can be traversed from the south valley (Schwaendi) to Kloental north of the peak. This hike will do just that - taking us straight up to the summit for amazing views across Glarus, and back down into the waters of the Kloentalersee for a cool dip.
This is a very strenous climb (not a hike), with between 1,500 - 2,000m of steep ascent and descent. No technical gear is required, but should things become too difficult for the group or the weather deteriorate, I will cancel the hike / turn back. At the top, the hike is rated between T4-T5 (http://www.hikr.org/post2984.html). To sign up you should have done at least a few high alpine hikes in rocky terrain, should be in good shape, and should not be afraid of heights. You also are required to have climbing boots with stiff soles and ankle support.
The plan would be to:
- Take the 7.40am train from Zurich to Glarus, towards Schweandi (700m). It is possible to overnight in Schwaendi itself to start early, particularly if the day is forecast to be very hot.
- Work our way up to the summit, where we will have lunch.
- Walk down to the Kloentalersee, with time to cool down and have a celebratory drink.
- Take the bus back latest at 5.50pm, to be in Zurich at 7.30pm.
Please bring with you:
- A one way ticket to Schwändi b. Schwanden GL, Post. Return from Klöntal, Rhodannenberg
- Plenty of water, snacks, and a packed lunch.
- Sun, wind, and rain protection depending on the weather.
- Climbing boots. Hiking poles would be useful for the descent.
- Swimming gear, if you wish to dip in the Kloentalersee.
- The desire to celebrate with the group at the end of the afternoon, time permitting.
Given the path is both steep and in places narrow, this will not be a large group. RSVP yes only if you absolutely intend to join, not just to reserve a spot and be a no show or a last minute drop-out.
If you have questions on the climb, please read these summaries for a few of many variations: http://www.hikr.org/tour/post50799.html; http://www.hikr.org/tour/post41807.html. If you've done this climb before and are familiar with the routes, please let me know.