THIS THURSDAY: Pitch & Projects with BrooklynBeta, Crush+Lovely, and Hatchery Founders
+ NYC BigApps News and Updates
Join us at the NYC BigApps Rackspace Pitch & Projects Meetup at Harvest to learn about telling stories, purpose driven development, and nailing your pitches and project pages. Hear the tricks of the trade for the best ways to design an app with a story, pitch your ideas, and design compelling project pages (that wow BigApps judges and potential collaborators).

The evening will be opened by Cameron Koczon, one of the founding brains behind Fictive Kin, TeuxDeux, the wildly popular Brooklyn Beta Conference, the Summer Camp incubator in Brooklyn, and a new project he will be telling you about at this meetup that is, fittingly, about storytelling and purpose.

Next up, Nathan Heleine, co-founder of Crush + Lovely, head of C+L's digital cinema studio, Motion, and co-creator of Fifty People One Question, will share his thoughts on storytelling and product promotion via video content. He'll also discuss ways in which narrative can inform product development and company culture.

Then, pitch or demo your own projects to find interesting teammates and get expert feedback from professionals like Yao Huang, Founder of The Hatchery, among others.

DATE: April 25th
TIME: 6:30pm-9pm
LOCATION: 16 West 22nd Street, 8th Floor, Manhattan
NYC BigApps Healthy Living + Lifelong Learning HACKATHON
Prizes: $10,000 in cash prizes will be awarded to teams whose app best addresses problems related to Healthy Living and Lifelong Learning after demoing at the end of this hackathon.

Get ready! NYC BigApps is hosting a mega NYC BigApps Healthy Living + Lifelong Learning Hackathon with $10,000 in cash prizes for winning teams that participate and demo apps that help:
A) New Yorkers to eat better, get in shape, live healthier lifestyles, and access healthcare resources.
OR,
B) People of all ages connect to NYC's diverse learning opportunities and educational resources (excluding K-12 formal public school education).

Come form teams and get feedback from expert design, programming, and issue advisors. Get all your Healthy Living and Lifelong Learning questions answered!

Location: Huffington Post 770 Broadway, 5th Floor, Manhattan
Date: May 4-5, 2013
Time: Saturday and Sunday, 10am-9pm
Office Hours @ Chartbeat, eBay and More
Want some advice on building your apps from the CTO of one of New York's fastest growing startups? Reserve your spot at the May 13th Chartbeat Office Hours with CTO Allan Beaufour on our new Office Hours page.

More office hours coming soon!
New Advisors Page
Got a question about building apps related to the environment? Or jobs? Or any other BigIssue? We've lined up an amazing crew of expert advisors and made them available to help you build the best apps possible. You can submit questions or sign-up for office hours through the respective BigIssue pages here:

Browse Advisors, Ask Questions
Highlights from the Jobs and Economic Mobility Hackathon! Amazing!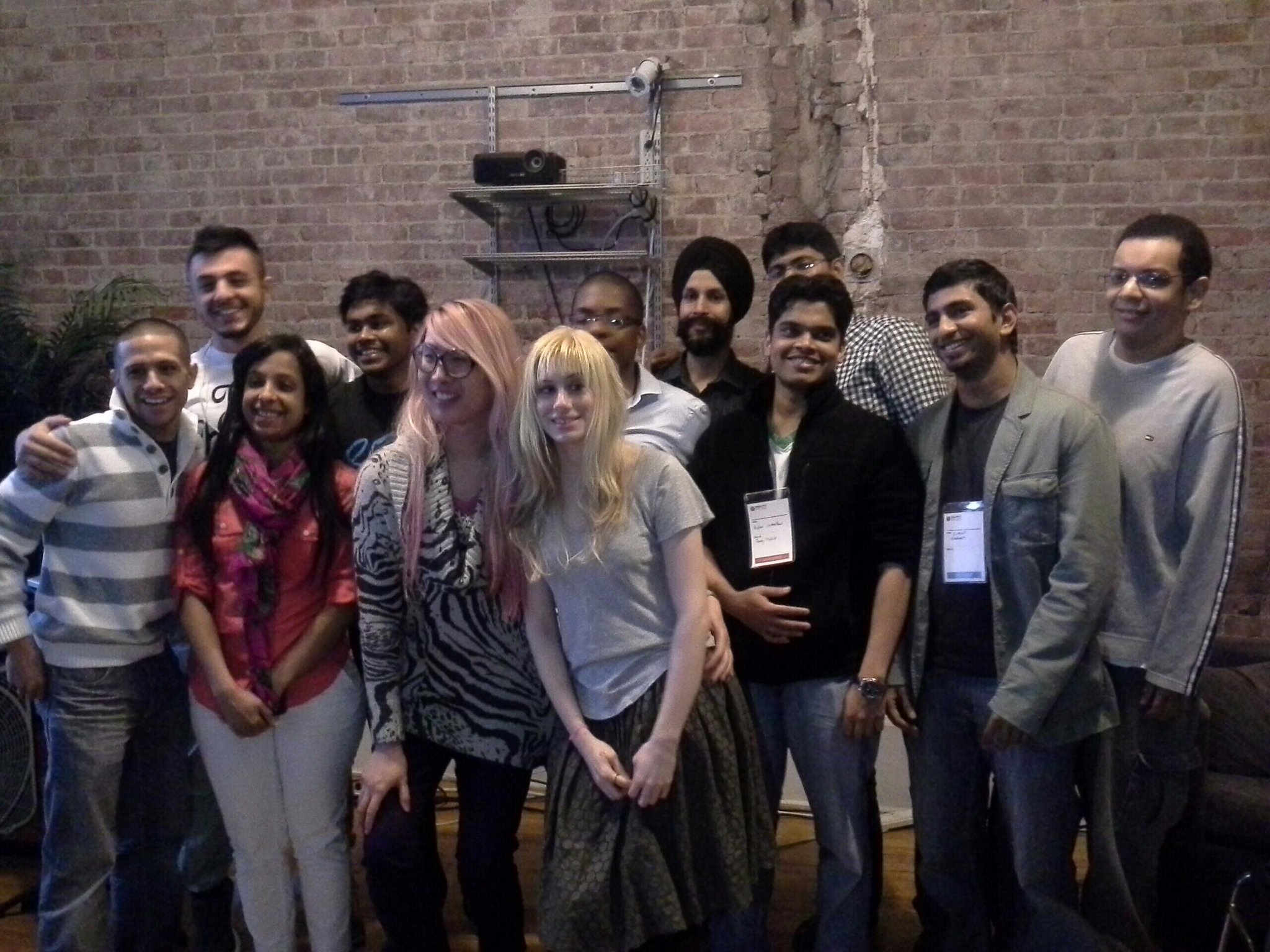 We were blown away by the projects that came out of the NYC BigApps Jobs and Economic Mobility Hackathon this past weekend. Fourteen teams demoed their projects and apps on Sunday night and the audience was on the edge of their seats. What teams accomplished in two days was amazing! The winning teams showed keen insights into solving problems for job seekers, working parents and more. Check out the winners below. And remember, there are still more hackathons and time left in the overall NYC BigApps Competition - get your apps started and leave feedback on people's project pages!

Browse all the Jobs projects here
Child Card Desk helps you find quality child care near you. We aim to show real time availability and social rankings for this essential service, making a terrible experience pleasant and useful.

Second Prize: Plexx

Plexx is a training center in your pocket. We build a mobile training portal where young people without a college degree can learn the skills they need to obtain an entry level job and build a career.

Job seekers apply for a lot of jobs through various job board sites. It's hard to keep track of where you applied. We've fixed this problem.
Special thanks to the judges, advisors, and our hosts, which included Matt Klein from Blue Ridge Foundation; McKenna Moreau of Coatue Foundation; Greg Kieser, Harish Bhandari, Sarah Oltmans and Dana Archer-Rosenthal of the Robin Hood Foundation; Erine Gray of AuntBertha.com, Daniel Koh of The Huffington Post, Tom Hilliard of the Center for an Urban Future, and Tony Bacigalupo of New Work City, and many, many others.
New Problem Briefs
Top brains leading nonprofits and other organizations have been hard at work thinking up tough problems that you can solve with data and design. Take a look at these briefs, team up with people looking to work on them, and start building your NYC BigApp!
"hHelp" for Social Service Providers: A Centralized, Real-Time Resource Hub by Children's Aid Society
Connecting Youth with Careers by FEGS Health and Human Services
Knowledge Saves Power: Closing the Gap of Energy Illiteracy in America by Solar One
Big Data and Smart Buildings by CUNY Building Performance Lab

Three Tips for Finding Collaborators
Looking to build a team? Here are three simple things that you can do to make a good impression:
Fill out your profile as much as possible. The more information, work samples, interests and, most importantly, work history, the more likely people are to send you messages or respond to your pitches.
Add lots of big images to your project pages! One simple image or screenshot won't do a lot to spark people's imaginations. Project pages with more than one image and a great description are many times more likely to have people offer to join and help build them.
Send lots of messages! Remember, everyone on NYC BigApps is looking to team up with someone like you. :)
CollabFinder Inc.
413 W 13th St, #203
New York, NY, 10014
Contact: [address removed]
Follow: @NYCBigApps and @CollabFinder
(646)[masked]