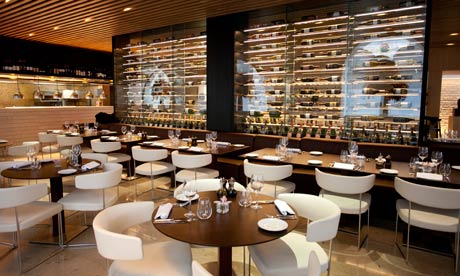 Cucina Asellina in Strand is the chic and modern sister restaurant to the New York restaurant of the same name. The restaurant offers a beautiful setting and provides tasty food created by simple Italian techniques.
We are going to be ordering from the following menu...
Drink
A glass of champagne on arrival
Starters
burrata, rosemary focaccia, grilled vegetables, gaeta olives, basil dressing
beetroot cured salmon, grapefruit, fennel and rocket salad, lemon oil
prosciutto s.daniele, fontina, rocket & parmesan flatbread

Mains
roast sea bass, crushed potatoes, olives, sundried tomatoes, rocket & salmoriglio
ox cheeks, baby carrots, flat onions, smoked pancetta, red wine sauce
black peppercorn tagliattelle, wild mushrooms, chestnuts & pecorino

Desserts
black sambuca pannacotta, strawberry & aged balsamic
tiramisu
passion fruit cheese cake, bellini sorbet
Fees & Refunds
The total fee, required up front, is £27.12 which includes the price of the meal, a £1 charge that goes towards the costs that I pay to run this meetup group (any extra goes to costs of hiring rooms for the group etc), and the paypal fees. On the day there will also be a service charge added by the restaurant. This will be divided equally among everyone and has never been more than £5, so please don't worry!
If you are a full member, you will receive the £1 charge back either at the event or by paypal on the evening of the event.Not a full member but would like to be? Please read this page: http://www.meetup.com/the-casual-foodie-club/about/
If you do not show up or cancel your place on this event within 72 hours of the event starting, you will not receive any of your fee back. This is due to the fact that we will often have to make a payment directly to the restaurant in advance - we don't get the money, the restaurant do. Within seven days, you will receive 70% back, within 14 days you will receive back 80% back, any time before that you will receive 90% back. If you need to request a refund you need to contact Nicola, even if someone else is hosting the event.