There was plenty of snow when we went Dec. 15 and there should be enough in mid-January. Here's your second chance.
This is a relatively easy four-mile round trip at Gold Lake Sno Park. Please read this whole post before signing up so you know what you're agreeing to. I have taught many people to ski and am happy to teach you. This trip is subject to weather and to us getting enough snow on the mountain.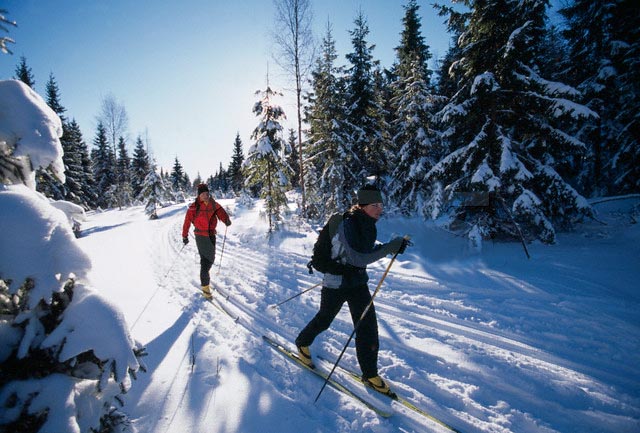 If you can hike, you can probably cross country ski. You'd need about the same level of fitness for this as for a hike of the same length. Here's a Google map of the road to get to the sno park: http://goo.gl/f0PnE3
We'll start at Gold Lake Sno Park and ski to Gold Lake shelter that does have an open sided hut with a wood stove. There is an outhouse at the parking lot and at the hut we're skiing to. If people have lit the stove before our arrival, we'll have a fire to warm by and eat lunch. Here's a map of our ski trail: http://goo.gl/98Yhh3.
As this is a beginners trip, we will take the main road which is relatively flat with gradual slopes. If this is your first time, be prepared to fall. Snow is soft.
It is essential for everyone to come prepared and be safe so we can have fun in the snow. You will need to bring:
--Appropriate clothing for winter outdoors. This means dress in layers for both your torso and your legs. Make sure to have a hat or hood to keep your heat in. Wear a waterproof outer layer. Wear sunscreen. Snow reflects sunlight. DO NOT WEAR COTTON CLOTHING. YES I AM SERIOUS. YOU WILL NOT BE ABLE TO COME IF YOU ARE WEARING COTTON. When cotton gets wet it stays wet and keeps you cold. Cotton kills. Wear wool or synthetic fabrics. This does not have to be anything fancy. You can buy the right gear at thrift shops or outdoor stores. You can also rent outdoor clothing from the University of Oregon Outdoor Program.
Here is a video explaining the importance of wearing the appropriate clothing for safety in the outdoors:
http://www.youtube.com/watch?v=-BD3tW0hZuM
--Bring your own skis, poles and boots with you to our meeting place. You can rent these at Berg's Ski http://bergsskishop.com/ or the University of Oregon Outdoor Program http://outdoorprogram.uoregon.edu/files/Rental-FallWinter_13.pdf. It is usually about $10 to $15 for a set of gear. They will be able to sort you out with the right size for your body. If you want to buy your own gear, you can get it at Berg's or Play It Again Sports, or find equipment online.
--Bring a whistle. This is essential outdoor gear. Many backpacks have one incorporated into a buckle. We are going to all stay together but just in case anyone gets separated, you can whistle a lot longer and a lot louder than you can yell.
--Lunch, plenty of water (I recommend two liters or more) and something to share with your new friends.
--Money to share in driving expenses ($15). Please say in your RSVP whether you have a vehicle to offer others a ride or whether you need one yourself. Drivers should have space for people and their equipment and either studded tires or chains available. A day pass at the sno park is $5 and a season pass is $25 (as of last year). It's just shy of 150 miles round trip so in keeping with the 10 cents a mile that many other outdoor groups use, please bring $15 for your driver if you need a ride to cover the gas, tires, insurance, oil changes and all the other very real expenses to get you to the mountain and back, and of course the parking pass. The IRS values driving at 56.5 cents/mile so you're getting a bargain here. We will arrange carpools on the day.
Children are welcome if they can handle something of this difficulty.
Please, no smoking and no pets.
We'll have the option of stopping at the Brewers Union pub in Oakridge on the way back http://www.brewersunion.com/. Return time is approximate.
Here's a brief introduction video to cross country skiing. There are many others online.