The hike around Clear Lake is a relatively flat five-mile loop. There are streams and a spring that feed it but Clear Lake is considered to be the source of the McKenzie River. It's hard to describe without going hyperbolic. People go scuba diving in here.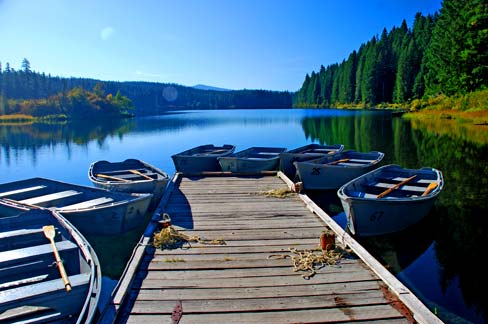 The hike goes along the shore, through the forest, over an ancient lava field and past a spring of pure cold snowmelt bubbling up from the earth. 
Here's a map of the route around the lake.
I would rate this as an easy-intermediate level hike. 
Standard hiking safety rules apply. Dress in layers including an outer layer that is waterproof. Do not wear cotton. Cotton kills. If it gets wet, it stays wet. Dressing appropriately for outdoor adventures is like wearing a seatbelt in the car. Probably nothing will happen, but you want to be prepared just in case. And it's miserable hiking wet. Ask the guy who got rained on at one of my hikes in his blue jeans in July a few years ago and finished the day shivering with cold.

You can get suitable gear just as easily at thrift stores as at outdoor outfitters. You can also rent gear at the University of Oregon outdoor program. Please wear appropriate hiking shoes or boots. See this video on safe hiking wear: 
http://www.youtube.com/watch?v=-BD3tW0hZuM
Please bring a snack to share (I love dark chocolate by the way). We will arrange carpools on the day but please say in your comments if you want a ride or can offer one. If you'd like a ride, please bring $15 for gas, tires, insurance, oil changes and all the other very real costs of getting you about 150 miles to the trailhead and back. The IRS pays 55 cents a mile. This is only 10 so you're getting a bargain here. Please no dogs and no smoking near other members on this trip. All dog owners believe their own dogs are well behaved. Yet not all others believe the same.
Bring a lunch for yourself and plenty of water. Behold the Metro to help you find us in parking lot.
My friend needs to get back to Eugene by 4 so we will need to stay punctual.