This deck has an infinite look. I'm looking for restrictions.
Lord of Change
+
Urguck
+
Fists of Mork
= Infinite Loop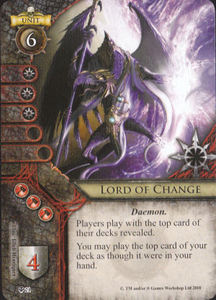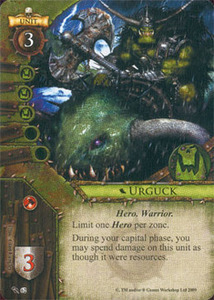 Units
20
3 x
Baby Squig
3 x
Lobber Crew
3 x
Squig Herders
3 x
Squig Trackers
3 x
Urguck
1 x
Mannfred Von Carstein
3 x
Lord of Change
1 x
Bloodthirster
Tactics
14
3 x
Mork's Teef Ritual
3 x
Fists of Mork
3 x
Rip dere 'eads off!
2 x
Smash 'em
2 x
Troll Vomit
1 x
Raise Dead
Supports
16
3 x
Warpstone Excavation
3 x
Contested Village
1 x
The Unending Horde
3 x
One Orc's Scrap
1 x
Too 'ard to die
3 x
Guard Squig
2 x
Squig pen
This deck has an infinite loop. I'm looking for restrictions.
Quest
1
1 x
Smash'em, Bash'em!
Here is a link to the discussion on
FFG
The deck is a control-combo deck, with no splash: Pure orc.(no true)

The "squig" engine gives a lot of speed: it can get some 2nd turn "flashes"…even 1st turn, with a lucky hand.

The combo is basically an infinite damage engine using Lord of Change, Urguck for his damage/resource production and Fists of Gork.
It's a complex deck that needs complex choices: in most of the cases, it closes the deal in a standard "control" fashion, with big guys hittin' the oppo and control stuff to mantain permanent advantage.
Here is an excerpt from a thread about
how a similar deck works
. It has a slow but nasty infinite loop.
So the plan is to get Urguck, Skarsnik and Gobbla, and one Lord of Change into play, have at least one Fists of Mork in hand (or as the top card of your deck), and one resource. You play Fists of Mork, dealing one damage to Urguck and Skarsnik each, and chose to return Fists to the top of your deck. From there it can be played again, thanks to Lord of Change, with the damage on Urguck used to pay for it, and it then again deals one damage to Urguck and Skarsnik each. With every cycle, your opponent takes two indirect damage. After the third cycle, you remove three damage from Skarnsnik for his effect. Rinse and repeat. Even if your opponent has units with toughness or can soak up the damage from Fists in other ways, he most likely can't handle the damage to his capital from Skarsnik.
­
Edited by steve on Jun 18, 2012 2:36 PM
SAVAGE!