Dear Movie Going Friends,
If you have not had a chance to see this movie yet...now is your chance and at a DISCOUNT!
The movie will be on TUESDAY.
TUESDAY, April 30, 2013 we will watch the movie:
The Big Wedding
Please come early between 6:00 and 6:30 PM for conversation and relaxation before the movie with your fellow movie going friends.
Depending on the weather: We will meet outside above the stairs to the box office by the cement benches near the Wells Fargo ATM machine.
Or if it is very cold and/or raining, we will meet inside the lobby towards the back lounge by the tables and chairs.
The movie starts at 7:00 PM
I will be at our meeting place (mentioned above) early and will buy some extra tickets. Call me if you would like me to hold a ticket for you with Your Name, Cell Number and How Many Tickets you would like. Exact change would be nice.  
Or just go to the box office directly and mention Cheap Movie Night MeetUp.
Also Note:
At Digiplex Destinations at the Hazard Center in Mission Valley you can get a FREE promo size popcorn with purchase of any size drink or for $5.98 you can get a small drink and a regular size popcorn (much larger than the promo size popcorn). Please mention Cheap Movie Night.
After the movie, if we have enough members interested, we will venture over to Applebee's. They have a late night Happy Hour food menu for $6 or less and $3.50 drink specials between 9pm-Close. Enjoy a "Cheap Night" for $12 or less for movie and food!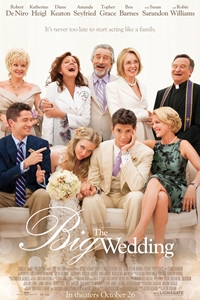 Starring: Amanda Seyfried, Robert De Niro
Directed By: Justin Zackham
Run Time: 1 hr. 29 mins.
Released By: Lionsgate Films  This uproarious romantic comedy follows a charmingly modern family trying to survive a weekend wedding celebration that has the potential to become a full blown family fiasco. To the amusement of their adult children and friends, long divorced couple Don and Ellie Griffin are once again forced to play the happy couple for the sake of their adopted son's wedding after his ultra conservative biological mother unexpectedly decides to fly halfway across the world to attend. With all of the wedding guests looking on, the Griffins are hilariously forced to confront their past, present and future - and hopefully avoid killing each other in the process
Questions? - CALL ME
Jeffrey
[masked]
**Please remember:
Lately, we have been having great response for our movies and the theaters are getting quite full. Please be courteous to your fellow movie going friends whether they are in our group or the general public.
Try to refrain from talking and texting during the movies.
We meet an hour before a movie and an hour after so all your conversations should be done then.
If you have an emergency and you need to talk, text, or call someone, please step out of the theater as not to disturb anyone else.