Dear Movie Going Friends,
If you have not had a chance to see this movie yet...now is your chance and at a DISCOUNT!
The movie will be on TUESDAY.
TUESDAY, May 28, 2013 we will watch the movie:
Fast and Furious 6
Please come early between 6:00 and 6:30 PM for conversation and relaxation before the movie with your fellow movie going friends.
Depending on the weather: We will meet outside above the stairs to the box office by the cement benches near the Wells Fargo ATM machine.
Or if it is very cold and/or raining, we will meet inside the lobby towards the back lounge by the tables and chairs.
The movie starts at 7:00 PM
I will be at our meeting place (mentioned above) early and will buy some extra tickets. Call me if you would like me to hold a ticket for you with Your Name, Cell Number and How Many Tickets you would like. Exact change would be nice.  
Or just go to the box office directly and mention Cheap Movie Night MeetUp.
Also Note:
At Digiplex Destinations at the Hazard Center in Mission Valley you can get a FREE promo size popcorn with purchase of any size drink or for $6:00 you can get a small drink and a regular size popcorn (much larger than the promo size popcorn). Please mention Cheap Movie Night.
After the movie, if we have enough members interested, we will venture over to Applebee's. They have a late night Happy Hour food menu for $6 or less and $3.50 drink specials between 9pm-Close. Enjoy a "Cheap Night" for $12 or less for movie and food!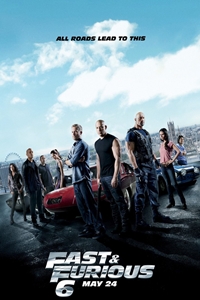 Starring: Vin Diesel, Paul Walker
Directed By: Justin Lin
Run Time: 2 hr. 10 mins.
Released By: Universal Pictures Since Dom and Brian's Rio heist toppled a kingpin's empire and left their crew with $100 million, our heroes have scattered across the globe. But their inability to return home and living forever on the lam have left their lives incomplete.

Meanwhile, Hobbs has been tracking an organization of lethally skilled mercenary drivers across 12 countries, whose mastermind is aided by a ruthless second-in-command revealed to be the love Dom thought was dead, Letty. The only way to stop the criminal outfit is to outmatch them at street level, so Hobbs asks Dom to assemble his elite team in London. Payment? Full pardons for all of them so they can return home and make their families whole again.

Questions? - CALL ME
Jeffrey
[masked]
**Please remember:
Lately, we have been having great response for our movies and the theaters are getting quite full. Please be courteous to your fellow movie going friends whether they are in our group or the general public.
Try to refrain from talking and texting during the movies.
We meet an hour before a movie and an hour after so all your conversations should be done then.
If you have an emergency and you need to talk, text, or call someone, please step out of the theater as not to disturb anyone else.