Kick your shoes off and have some fun...
It's barefoot bowls!!!!
Our friends at the Green Room have their welcoming arms open to host us for an afternoon of barefoot bowls, meals or snacks, live music by the Bussatones (a reggae band) AND some cheeky Sunday Session drinks.
To play bowls... it's $8 ($1 of which goes to charity)
Meals are very reasonably priced ($15 for either a fisheman's basket or a burrito with chips and salad, $6 beer batter fries)
TRANSPORT
The Coorparoo train station is just near the Coorparoo Bowls club or Brisbane City Council bus 174 or 184 or it's a 500m walk from any of the buses that stop near the intersection of Cavendish Rd and Old Cleveland Rds (bus route 200)
Looking forward to seeing you there for our
February Sunday Seesion Cheeky drinks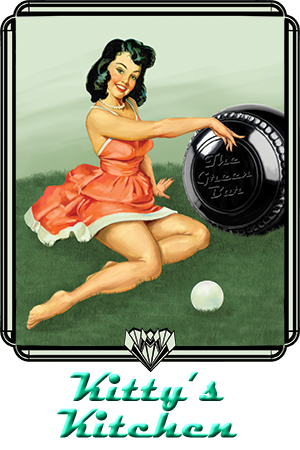 KITTY'S KITCHEN
Quality home-style meals at bowls club prices! * Home of the World Famous (in Coorparoo) Kitty Burger!
Hours:
Kittys kitchen menu:
Rib Fillet Steak: A juicy restaurant quality Rib fillet steak served weekly with one of our delicious sauces or grilled prawns, with fresh garden salad and beer battered chips.
Fishermans Basket: A Golden Crumbed pollock fillet, a handful of crispy calamari rings and a grilled prawn served with a fresh garden salad and beer battered chips.
Kitty Burger: Our very own secret recipe mince patty, with creamy garlic aioli, zesty tomato chutney and fresh
salad on toasted Turkish bread. Served with a side of beer battered chips.
Chicken Fajita: Mexican style spiced capsicum slices with shredded chicken, chunky salsa and tasty cheese, wrapped in a tortilla and toasted till golden.