MOONLIGHT SNOWTUBING!
The excitement builds as we drive to the nearby Villa Olivia ski area(1401 W Lake St, Bartlett IL, 45 min from downtown) for a thrilling snowtubing adventure under the stars 5p-8p, $17 Please pay $17 here: https://www.wepay.com/events/snowtubing-reserved-126 Once it is sold out, the link will be removed.
Fee includes two hours of snow tubing and the use of the snow tube. Purchase tickets in the Ski Lodge. Snow Tube tickets are sold first come first served, based on availability. Well-behaved children are permitted at this event. Kids age 4 or 5 can share a tube with you for $5, age 6 and over get their own tube for $17.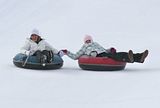 We will meet in the ski lodge to Meet & Greet and buy tickets at 5p. Look for Robin T wearing a turquoise ski jacket with meetup sign and nametag[masked]-7555. It is best to wear snowpants, jeans can get wet & cold. Forecast is 36 & clear, will be a perfect winter evening for outdoor fun! Post in the comments if you are driving from downtown and would like to be a carpool driver, approx 45 min drive. You will receive $10/person gas money.

There is a bar and restaurant with fireplace in the ski lodge, we will enjoy a casual dinner & drinks together after. We can also hang out there if there is a wait for the popular snowtubing activity. Please bring cash, to make settling the tab easier.
The Villa Olivia Ski Café offers a multitude of delicious menu items including:
Hot Chocolate, Coffee, Sodas, Milk, Bottled Water & Gatorade
Pizza, Hamburgers, & Hot Dogs Soup & Chili French Fries, Nachos, & Chips
Cookies & Donuts Salads, Fruit & Yogurt. Menu items are reasonably priced and are subject to change at any time.
For those who are 21 & older they have a full service bar serving coffee, sodas, beer, wine & cocktails.