here?s a new posting that you may be interested in checking. and, we're headed back to
nighttown!
Cinematheque
on Sunday, August 30 at 7 p.m.
It?s a Gift
, (1934)
USA directed by Norman Z. McLeod
73 minutes, Black & White, English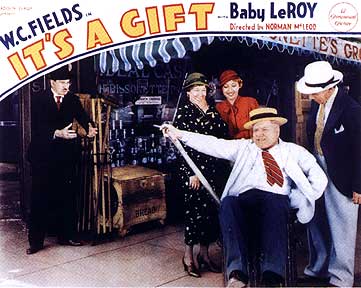 no! this is not a film about the county commissioners. it's a w.c. fields and baby leroy classic. if you don't know who they are then this would be the perfect opportunity to find out.
the film runs at 7 p.m. at
cinematheque
. afterward we?ll head to the popular nighttown for dinner and discussion in the covered patio, stephen?s green.
nighttown owner and meet up friend, brendan ring has once again offered the special discount of 15 percent for our group.
how can you beat that; a classic film, an engaging discussion and a great meal with friends at a members only price.
?paging carl la fong!?
it?s a gift
is one of the undisputed masterpieces of american screen comedy and w.c.fields? greatest film. no other film has got close to its surreal humor, its irreverence and its lopsided view of family life as a purgatory to be endured. at one point fields threatens to hit his small son, reasoning the act away with a ?he?s not going to tell me I don?t love him.?
in
it?s a gift
, w.c. fields plays a beleaguered new jersey grocery store owner who decides to buy a california orange grove and move his family west. of course the land is a worthless barren plot that contains only a tumbledown shack and a tumbleweed. (note, it's so barren it has only one tumbleweed).
a well-known, and often somewhat misquoted fields comment occurs at the climax of the film, as harold bissonette, field?s character, is haggling with a real estate developer, who angrily claims that bissonette is drunk. he responds,
yeah, and you're crazy; and i'll be sober tomorrow and ... you'll be crazy for the rest of your life!"