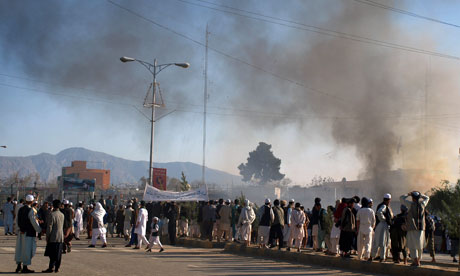 Smoke rises from the UN compound in Mazar-e-Sharif, northern Afghanistan,
after demonstrators protesting against the burning of a Qur'an by a Florida
pastor killed at least eight UN staff. Photograph: Mustafa Najafizada/AP

More from The Guardian on this story...
This is my response to a post in another forum about the attacks on UN personnel in Afghanistan:
You are right to talk about the god virus.

More than anything else it demonstrates what a perverse mental world model religion, and Islam in particular, creates. To burn a handful of sheets of paper is a pin prick on a pin, especially since this weird book is ubiquitous and seared into the poor brains of so many children throughout the world.

I am always repelled by the thought of book burning since it conjures up images of the Krsitalnacht. Books, any books, are special because they represent the preservation of human thought. But the actual practical negative effect of burning one copy of this particular book is almost zero – not quite zero because the act does release greenhouse gases.

Wayne Sapp and Pastor Jones also suffer from the god virus. They seem to think that by burning this book they are attacking some sort of demon and that their act has some spiritual effect in the "other world"; unless they just want publicity and to increase the size of their minuscule congregations (but we mustn't attach such base motives to such obviously holy men, must we?)

If you want to really attack the book (and it deserves to be rigorously attacked) you need to attack the contents. The best way to make people really think about it is to expose its contradictions, violence and obvious self-doubt to ridicule. The problem is that religious people are severely lacking in the humour department. They see the world only in terms of demons and angels. Wayne Sapp and Pastor Jones dare not ridicule Muhammad's concoction for the obvious reason that it would lay their own manifestly schizophrenic book wide open to the same treatment. If Muslims and Christians started pulling each others books to pieces by examining them critically and humorously they would both end up, thankfully, without a "holy" book at all.

To blame Wayne Sapp and Pastor Jones for "fuelling" the Afghan attack is absurd and can only be done by someone who accepts this demons and angels view of the world. Wayne Sapp did nothing of any significance whatsoever.

The best response to this is to launch an all-out attack on religion using the most effective weapons available: laughter, art, music, song, fun and happiness in the languages of the people most severely afflicted.

Indeed we should rigorously condemn Wayne Sapp for setting a bad example in publicly and pointlessly releasing greenhouse gases.
Edited by Rafiq Mahmood on Apr 5, 2011 9:16 PM
Rafiq, how is it that you make so much sense? I'm so used to reading nonsense in our media and from our politicians. It's so discouraging. can you clone yourself please?

Just a footnote to this qur'an burning issue. In one of the recent attacks upon an Ahmadi mosque in Indonesia the mob burnt copies of the qur'an belonging to the Ahmadis. Exactly the same qur'an, of course. No one noticed or cared, least of all the US President. The Ahmadis responded in their usual way by crying and (illegally) praying.

Rafiq, would you repeat what you just wrote above in a post on my Face Book page so my friends will see it?
I'd very much appreciate that. I could quote you but it is better coming from you living in Indonesia.

The Peach says is so much better...



Edited by Rafiq Mahmood on Apr 7, 2011 12:31 PM
It seems the only difference between the UK and Pakistan is that you don't get the death sentence. I am disgusted that people can be arrested in the UK for burning a book in their back yard. It has given them more free publicity and will undoubtedly attract more people to their racist organisation.
Britain, rightly, abolished the crime of blasphemy (which was hardly ever used) and replaced it with legislation about upsetting people on the basis of their religion which is used far too often. The restrictions imposed on basic liberty in the UK sadden me more and more each day. I feel freer here, and that is a terrible thing to say.

BNP election candidate arrested over Qur'an burning


A senior member of the BNP who burned a copy of the Qur'an in his garden has been arrested following an investigation by the Observer.

Footage of the burning shows Sion Owens, 40, from south Wales and a candidate for the forthcoming Welsh Assembly elections, soaking the Qur'an in kerosene and setting fire to it.

A video clip of the act, leaked to the Observer and passed immediately to South Wales police, provoked fierce criticism from the government.

A statement from the Home Office said: "The government absolutely condemns the burning of the Qur'an. It is fundamentally offensive to the values of our pluralist and tolerant society.

More...
What nonsense! What values of a "pluralist and tolerant society"? I think it is deeply offensive to the values of a pluralist and tolerant society that someone should be arrested for doing something as silly and pointless as this. It is pure sycophancy. We should learn more from the Danes.
It seems the only difference between the UK and Pakistan...
Of course I don't really mean that. I'd much rather be in the UK than Pakistan. But there is a slippery slope and we need to be very careful about what we mean by liberal and pluralist societies. It does not mean compromising the basic right of free discourse or giving way to intolerance, inequality, discrimination or humiliation in the name of pluralism.
The UK, it seems, is rich and fertile ground for increasing polarisation and conflict between two sets of dangerous nutters: the Islamists and the racists.