Please RSVP for this event at Eventbrite.
Are you an entrepreneur with your own startup? Or a new business that started to get some traction but need a little more structure to grow? Maybe what you need is an incubator or accelerator? Incubators are setup to provide you with guidance, expertise, and resources to help your business grow. Accelerators provide even more resources and valuable connections to investors. Some even provide your startup with seed money.
Learn from our 4 speakers who represent the most respected incubator / accelerator in their industry (tech, food, and fashion):
Mark Wachen (@mwachen) Managing Partner at DreamIt Ventures
Murat Aktihanoglu (@muratny) Managing Director at Entrepreneurs Roundtable Accelerator
Sandra Vu (@HotBreadKitchen) Program Director at Hot Bread Kitchen
Bob Bland (@ManufactureNY) Founder of Manufacture New York

Bios:
Mark Wachen
Mark is the Managing Director for DreamIt Ventures' New York program. He is the Managing Director and Founder of Upstage Ventures, a firm that advises and invests in consumer Internet and interactive marketing companies and board member of Optify and OrderGroove.
Mark is the founder of Optimost, the company that pioneered multivariable testing and optimization on the Internet; and he served as CEO for the company up until its acquisition by Interwoven in November 2007 for $52 million.
Murat Aktihanoglu
Murat is an engineer, author and technology entrepreneur. He recently sold Centrl, a location-based social networking startup that he founded in 2008. At the time of the sale, the application was the first to offer a free IM-on-a-map-system that was not reliant on SMS.
A tireless force on the NYC tech startup scene, Murat founded the Entrepreneurs Roundtable in 2007. The organization, which holds monthly "short pitch" format meetings connecting investors with promising startups, has created active and engaged communities New York City, Philadelphia, Turkey and Japan, with India and China coming soon.
In 2011, Murat co-authored Location-Aware Applications, a comprehensive guide to the technology and business of creating compelling location-based services and applications.
Sandra Vu
Sandra Vu is the Program Director for HBK Incubates, Hot Bread Kitchen's culinary incubator program that supports start-up food businesses. Hot Bread Kitchen, located in East Harlem, is a non-profit social enterprise that creates better lives for low-income women and food entrepreneurs. She holds a Master's degree in Food Studies from New York University and a business degree from Cal Poly San Luis Obispo.
Bob Bland
Bob Bland is a Brooklyn-based fashion designer, entrepreneur and community art advocate.
Her brand, Brooklyn Royalty, was founded in 2006 and inspired by the fiercely independent spirit and highly individual aesthetic of King's County residents. A professional apparel + graphic designer with previous experience at Marc by Marc Jacobs, Triple Five Soul, Rugby by Ralph Lauren, Tommy Hilfiger and Banana Republic, her line combines timeless design principles, premium materials and hand-printed graphics that are meant to look and wear better over time.
She is also the CEO + Founder of Manufacture New York, a fashion incubator/factory hybrid dedicated to providing independent designers with the resources & skills to streamline their production process & transform local manufacturing into the most affordable, innovative option for all.
Agenda:
6-6:15pm - Introductions
6:15-7:30pm - Panel Discussion
7:30-8:00pm - Q&A + Networking
Sponsors: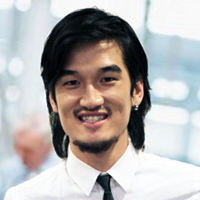 Prize Sponsor - Special $50 credit for Elance services to be given to attendees, which will be announced by Tony Chung.Tony is an entrepreneur and model based in New York City.  He is the Founder and Creative Director of Geekwhat Design, a web design and development firm based in Union Square.  Over the past 2 years, Tony has grown and expanded his business without the burdens of traditional expansion by tapping into the Elance virtual network.  As such, Tony is now a Mobilizer for Elance to share his story and empower folks in New York City to grow their business the smart way by using Elance.
Elance is where people Work Differently™. A pioneer in today's freelance revolution, Elance is the world's leading platform for online work. Today over 500,000 businesses and 2 million freelancers use Elance in 170+ countries. Innovative global enterprises, small businesses and startups tap into the Elance talent pool, building teams from web and graphic designers, copywriters, social media marketers, customer service agents, and more. More than 1 million freelance jobs are completed through Elance annually.
Food Sponsor - Our partner Robinson Catering is providing mini bottled waters, deviled eggs, salad, and a fruit/cheese platter. Thanks to Chef Robinson!