January 25, 2013 · 5:30 PM
Want to make sure your social calendar stays full in 2013?
If the answer is 'yes', then take the first step by coming out to the 2013 CYP Membership Party on January 25th from 5:30 PM - 9:30 PM at Escafe (215 Water Street West). Folks are welcome to stay past 9:30 for dancing; Escafe's D.J. will start setting up around 10 PM. This year's theme is "Varsity Blues"! Show some school spirit and come dressed in your high school or college's colors. Draft beer, red and white wine, and a selection of appetizers will be available for members to serve themselves. Supplies are limited, so come early! There will also be games and door prizes for people to enjoy.

Individuals wishing to purchase food and/or additional drinks may do so at the bar. Given the limited amount of tables in the lounge area, any members who would like to purchase dinner may do so in the main seating area of the restaurant.

Come mingle and make some new friends, or reacquaint yourself with familiar faces. While you are at the Membership Party, learn about the benefits of joining CYP. Membership is a mere $35 per year. The Board of Directors have some exciting plans in store for 2013. Allow CYP to serve as your social director and fill your calendar with a wide variety of events. Please come out on January 25th and learn about the fun and excitement that awaits you in 2013!

***CYP will be able to accept cash, checks, credit and debit cards at the Membership Party. Checks should be made payable to 'CYP'. If you decide to pay using a credit or debit card at the party, the cost is $36 ($35 membership fee plus a $1 transaction fee). When paying, please complete and submit our membership application (these will be available on-site). We cannot wait to see you!
***Attractions Dining and Value Guide will be on sale at this event***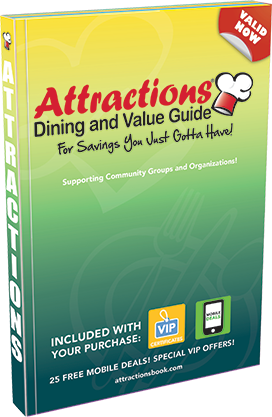 The dining and value guide costs $25, but the savings are enormous! CYP will be able to accept cash, check, credit or debit card for the guides; checks should be made payable to 'CYP'. If you decide to pay using a credit or debit card, the cost is $25.75 ($25 for the guide plus a $0.75 transaction fee). The guide includes offers from an assortment of local merchants and restaurants. To view a complete list of offers, visit http://www.attractionsbook.com/coupons/city/Charlottesville.