Denver Happy Hour Meetup Members:
I know everyone's focus is on December Holiday parties....we are already halfway to the holidays and January is coming up fast! Everyone will come back from holiday travel and be ready to drink wine... so our next wine party is on Thursday January 5, 2011. We'll join Denver Wine Meetup and several other groups for this event.

We are going to the "Ends of the Earth" to explore the Bodega Del Fin Del Mundo! Jack O'Neill, the Regional Manager is flying in just for our group to present these fabulous wines to our group. It's a terrific opportunity to compare wines fermented in stainless steel vs. oak and he is bringing a larger number of wines to try, including a wine that is rated 91 by Robert Parker. Our event will be at La Sandia at the Vistas Park Meadows in their Fabulous party room with sunset views. La Sandia, a Richard Sandoval restaurant will be pairing our wines with South American appetizers.
Please sign up NOW as many of you will not be around email as much during the holidays and January 5 will come up quick..
We have posted photos from our end of the year "Tour of Europe" Wine Party: http://www.meetup.com/denverwine/photos/4491792
The event is on the meetup and eventbrite. We will limit the event to 90 attendees and expect a big turnout with a unique winery, a fabulous party room and folks itching to get out after coming back from the holidays so reserve your spot now.
I'll be sending out more info with the wines and pairings along with our wine/gift guide of the wines that have been poured this last year for those of you looking for that something special to bring to Christmas dinner or a New Year's Eve celebration.
Cheers!

Stacey
All events are pay in advance.
Payment Link: http://uncorked-denver-gaucho.eventbrite.com/
Our first event of 2012! Time to get out and drink wine! It's time to go back to the land of Patagonia, we are traveling to the End of the Earth, the most southern vineyard on the planet at the 39th Parallel and meet the Bodega Del Fin Del Mundo in Argentina. Argentina is known for their value in top wines.
This is a unique opportunity to compare wines that have been fermented in stainless steel tanks vs. wines that have been fermented in oak casks. Wine that is fermented in stainless steel takes on a different taste.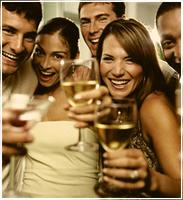 You'll get the chance to compare 7-8 wines that are in stainless, 6 months in oak, and 12 months in oak.
Our event includes one Malbec that has a 91 rating from Robert Parker.and we'll have Semillion/Sauvingon Blanc Blend, Chardonnay, Pinot Noir, 2 Malbecs, a Cabernet Sauvignon and to top it off a Richard Sandoval Venue: La Sandia at the Vistas on the outside of Park Meadows Mall with a party room just for our group!
This award winning winery (over 140 awards to date) has been written up in the New York Times as a recommended winery to visit. "One of the area`s pioneers, the 2,000-acre Bodega del Fin del Mundo which works with the influential wine consultant Michel Rolland, is racking up international medals for its complex Merlot, Cabernet and Malbec blends.

Crowd: Our group is mostly Young/Mid Professionals (20's through 40's with some early 50's)
When: Thursday January[masked] at 6:00 PM
Time: 6:00 pm-7:30 pm Wine Party (please be prompt as we will be serving each wine and appetizer paired) followed by dinner on the for members who stay for dinner.
Where: La Sandia in the Vistas at Park Meadows (this is the South side of the Park Meadows Mall just to the north of Macy
Cost: $26.99 includes tax and tip (Wine Party Only) Payment Link: http://uncorked-denver-gaucho.eventbrite.com/
Dress: Business Casual/Dress to Impress
Please Note: NO TICKETS WILL BE SOLD AT THE DOOR/NO WALK UPS!....sorry but we will have to turn away anyone who doesn't have an advance ticket as wine and food has been allotted based on the ticketed attendees and we do not handle money at the door. It's difficult to check folks in and handle money. Please see the Denver Wine Meetup for the refund policy.
Wines and Food Pairing:
Coming Soon!
Parking: The Vistas had Valet parking but it's free to park in the lot either on the north or south of the Vistas.
Light Rail: to Park Meadows, walk down the stairs, across the lot, through the Food Court, and across the mall like directly west and take the stairs or the escalator down. You should be in the center of the mall, walk outside where you will see the Ann Taylor loft to your right and keep walking by the fountains. It's the last building on the right and is across from Brios.