Announcing: Banfi Wine Party: Highly Rated Italian Wines (with a Playboy Penthouse Twist)
Denver Happy Hour Meetup Members:
Our next wine party is Thursday March 8, 2012
Highly Rated Wines From Banfi Vineyards of Italy paired with Randolph's Appetizers: WINE LIST POSTED!

Meet Banfi National Education Manager Bill Whiting (Bio:

Bill Whiting - new bio[masked] BV)

15th Floor of the Warwick, what used to be the Playboy Club of Denver. We have a private party room for our group with views of downtown.

Bonus: Enjoy Restaurant Week. We have a hard to find table held for our group! Info below on Restaurant week menu
Please go to Payment Link: http://uncorked-banfi.eventbrite.com/ to confirm with payment! We will not sell tickets at the door, we expect this event to sell out and are limiting to 90 tickets. Please invite your friends.
A little about the Banfi relationship with Denver Colorado and DU: The Banfi Vintners Foundation is the philanthropic arm of Banfi Vintners. Encouraged by their success in business, the Mariani family established the Banfi Foundation and from its earnings contributes to leading national charities and higher education through scholarships, fellowships and grants-in-aid.

Each year, the Banfi Vintners Foundation provides scholarships for one faculty member and one student from fewer than one dozen hospitality programs in the country. Participants travel to Italy to study Italian wine and food culture. 2012 will mark the 11th year that the University of Denver's Fritz Knoebel School of Hospitality Management (KSHM), at the Daniels College of Business has participated in the Banfi program.
Wine and Food Pairing Menu Coming Soon
UncorkedDenver.com has the Top Winery Events in 2012!
April 4, 2012 Napa Valley Wine Party: Hahn Vineyards Winemaker Event with Paul Clifton and their highly rated portfolio of wines
May 2012 award winning Barrossa Valley Australia Château Tanunda winemaker Staurt Bourne
....and other great events to come.
Details on our event below.......
Cheers!
Stacey

------------------------------
PAYMENT LINK: http://uncorked-banfi.eventbrite.com/
What: Wine Party with Banfi Winery and their highly rated wines from Tuscany at the Warwick.
Special Guest: National Education Manager Bill Whiting is flying in for this event.
Wines: (food pairing coming soon!) Wines are from the Banfi Castello Portfolio including wines from Tuscany, Piedmont and Prosecco (just north of Venice) We have 7 wines to sample.
Maschio Prosecco Brut Maschio Prosecco Brut embodies the finest traditions of Prosecco while accommodating modern, sophisticated tastes. Produced using 100% of the ancient Glera grape. http://www.maschio-usa.com/prosecco.html Very Good. Strong Recommendation. Great Value. 88 Points. - Ultimate Wine Challenge - May, 2011
San Angelo Pinot Grigio 100% Pinot Grigio. There's interplay between the crisp acidity and rich texture, allowing room for the white pepper and grapefruit notes to shine, with a fresh finish. 87 Points. Wine Spectator, Outstanding Recent Release, The Tasting Panel Magazine
Centine Rosso Sangiovese 2009- Cabernet Sauvignon - Merlot A juicy and fun young red, with berry character and soft, velvety tannins. Chewy, ripe fruit and jammy cherry aromas are backed by subtle hints of dried herb and rosemary. Pair this easy wine with grilled hamburgers or spicy barbecued pork ribs. Best Buy. 87 Points. Wine Enthusiast, Daily Wine Pick under $15. Top Value - 87 Points Wine Spectator
Banfi Chianti Classico 2009 Sangiovese Savory, subtle earthy notes balance the bright cherry-like flavors characteristic of Sangiovese planted in this part of Tuscany. The uplifting acidity of this mid-weight wine makes it a good match for pizza or simple pasta. A great buy. 88 Points. WineReviewOnline.com 88 Points. ,Wine Spectator
Rosso di Montalcino 2009 100% Sangiovese. A dense, chunky style, laced with black cherry and blackberry flavors. The tannins are assertive and mouth-coating, but everything works together. Shows fine length. 89 Points, Wine Spectator.
Banfi BelnerO Sangiovese complemented with small percentages of Cabernet Sauvignon and Merlot Delivers an attractive mix of cherry, sage and pepper flavors, with muscular tannins adding structure. Shows very good length. 88 Points. Wine Spectator, Editors' Choice - 90 Points Wine Enthusiast
Rosa Regale 2010 from the Piedmont of Italy, this wine is 100%. Brachetto Cold red-grapes skin contact for 4 to 5 days allows the wine to develop its characteristiccolour, aroma and complexity. The wine is then filtered and stored at 0°C. Refermentationfollows in stainless steel tanks in the Strevi cellars, where this special wine achieves its finalsweetness and sparkling chatacter. Aromatic with a hint of rose petals and raspberries, R While it is appreciated as one of the few wines in the world that truly marries well with chocolate, especially dark or bittersweet, its charms extend across a palette of occasions and food pairings, from savory to sweet. On its own Rosa Regale is an elegant aperitif.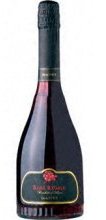 Winery Link: http://www.castellobanfi.com/
Where: Warwick Hotel in a private party room at the top of the hotel (with views of Downtown) in what was once the Playboy Club of Denver. Appetizers from Randolphs
1776 Grant Street Denver, CO 80203 www.warwickdenver.com
Crowd: Mostly Young/Mid Professionals mid 20's through 40's/early 50's
When: Thursday March 8, 2012 at 6:00 PM Please be prompt as we will be serving each wine and appetizer paired followed by dinner for members who stay for dinner
Cost: $ 27.99 includes tax and tip (Wine Party Only) PAYMENT LINK: http://uncorked-banfi.eventbrite.com/
Dress: Business/Dressy Casual to Business/Dress to Impress
Wine and Food Pairing: To Be Announced
Sign Up for Dinner after our event! Our group will have a 5280 Restaurant Week with a large table held for our group. The deal is a 3 course menu for $26.40 per person plus tax/gratuity in addition to the wine party. You may also join us and just have an item or dessert off the menu....we encourage you to stay and detox before hitting the road One of the best menus for restaurant week: http://www.denver.org/denverrestaurant/menu?id=1177&Randolph%27s+Restaurant+%26+bar&c=yes
Please Note: NO TICKETS WILL BE SOLD AT THE DOOR/NO WALK UPS!....sorry but we will have to turn away anyone who doesn't have an advance ticket as wine and food has been allotted based on the ticketed attendees and we do not handle money at the door for wine and food pairing events We expect 80-90 attendees with a wine manager flying in and it's difficult to check folks in and handle money. Our events sell out quick! Please see the Denver Wine Meetup for the refund policy.
About the Warwick, Randolph's and the Playboy Club History:
Warwick Denver Hotel has always been a popular hotspot to see and be seen.The top floors were once home to Hugh Hefner's Playboy Club, which opened in 1967 and so of course, the world's most famous playboy, Hugh Hefner, occasionally visited until the club closed in 1977.
Randolph's Restaurant and Bar exists only in the Denver and New York locations. The restaurant was named after William Randolph Hearst, who built the original hotel in New York (the first Warwick Hotel in the U.S.) for his Hollywood friends to visit.
Castello Banfi is a family-owned vineyard estate and winery located in the Brunello region of Tuscany. This award-winning estate was founded on the philosophy of blending tradition with innovation, and is recognized as a pioneer in elevating the standards of Italian winemaking.
Capturing honor after prestigious honor, Castello Banfi is a constellation of single vineyards encompassing over three dozen varying subsoils. The estate is renowned for its clonal research that allows noble grape varieties to thrive in their optimal terroir, creating not only a consistently outstanding Brunello, but the ultimate expression of Montalcino Super Tuscans.
To unsubscribe from meetup, please go to the email settings tab under "account". Do not email the organizer. This is a member function. Thanks.