Let's head to one of the best places in Westchester - X2O - Xaviers on the Hudson in Yonkers, on Thursday November 15th to take advantage of HV Restaurant Week - 3 courses for $29.95 plus tax, tip, and drinks. Please arrive around 5:30 -- we'll meet in the bar, and be seated at 6pm.
X2O Xaviars on the Hudson is Peter X Kelly's latest addition to the Xaviars Restaurant Group. It sits in the water on the only turn of the century Victorian pier still in use on the Hudson River. X2O's Main Dining Salon's 25 foot vaulted ceiling and 3 walls of glass frame offers views of the George Washington and Tappan Zee Bridges, as well as sunsets over the Palisades. Guests encounter dishes incorporating classic French technique with Italian and Spanish influences, and Asian embellishments which create a wholly original cuisine unique to the Hudson Valley.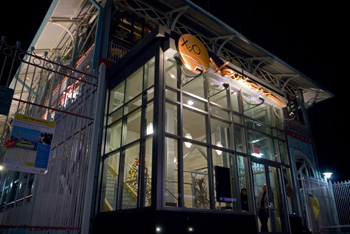 The Dylan Lounge is a vibrant, up-tempo space with a sophisticated and playful bent that offers guests more dining options. Guests are invited to sample a variety of small plates and sushi, while dining at the Communal Table, sushi bar, or at traditional banquette and table seating.
We've gone here a few times and every year the food is just spectacular, as is the view from the dining room... If you've not gone -- check out their website for menu, directions, photos, etc - http://www.xaviars.com/restaurants/xaviars-x20-on-the-hudson/entrees-at-x20/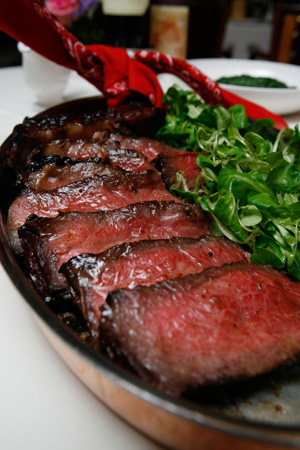 Here is the menu for Restaurant Week
X2O Xaviars on the HudsonFall Hudson Valley Restaurant Week 2012 Dinner
Menu
Appetizers
Pate Grand Mere with Duck & PorkMeaux Mustard, Pickles & Baguette
Warm Custard of Foraged Mushrooms Leeks & Leeks
Local Greens & Coach Farms Goat Cheese Thompson's Apple Cider Vinaigrette & Shaved Honey Crisps
Butternut Squash Risotto Parmigiano Cookie & Scallions
Celery Root Soup Crispy Sage & Pumpkin Seed Oil
Tempura Tuna Roll with Avocado Caramelized Soy & Wasabi Mayo
Entrees
Agnolotti with Hudson Valley Foie Gras & Beef Knuckle White Truffle & Port Reduction and Crushed Amoretti
Roast Leg of Heritage Pork Ragout of Root Vegetables in a Black Dirt Onion Jus with Spicy Parsley & Garlic Condiment
Whole Roasted New York Sirloin Truffled Yukon Potato Puree & Haricot Vert Shallots & Sauce Choron
Sauté of Jumbo Shrimp Flamed with Pernod Basmati Rice with Caramelized Fennel Green Peppercorns & HV Cream
Defiant Beer Braised Short Ribs of Beef Creamy White Polenta & Fried Cauliflower
Pan Seared King Salmon Braised Chiffonade of Cabbage Mustard Sabayon & Fingerling Potatoes
Desserts
Pumpkin Praline Tart with Ginger Snap Crust
Conklin Orchard Seckel Pear Poached in Local Port with Almond Pound Cake & Candied Almonds
Belgian Chocolate Timbale with Soft Caramel Center & Vanilla Custard
Hudson Valley Apple and Cranberry Cobbler with House Made Cinnamon Ice Cream
Late Harvest Cheesecake with Chocolate Shortbread Crust & Raspberry Meringue
We have a reservation for 8 -- - and I will need a $5 deposit via paypal to secure your spot. AS OF TODAY WE ONLY HAVE 8 PEOPLE SIGNED UP FOR THIS EVENT, SO I HAVE RELEASED THE OTHER TABLE SO OTHERS CAN GO TO THIS RESTAURANT. PLEASE RSVP OR UPDATE YOUR RESERVATION SO WE HAVE THE CORRECT NUMBER FOR THIS EVENT.
After the event I"ll refund $2.50 and keep the $2 as my fee, and paypal will keep their $.50. If you do not show up, or change your rsvp with three days of the event, then I get to keep the money - as it was VERY difficult to get this reservation, and I cannot afford to have no shows during Restaurant Week. I hope you understand! :)
We'll have a wonderful time = be prepared for fancy fabulous food!!
See you there!
Terry