OVERVIEW:
We will have brunch at 10 am at Cafe Vida 15317 Antioch St, Pacific Palisades. This is followed by a visit to The Getty Villa at 17985 Pacific Coast Highway, Pacific Palisades (3.3 miles from Cafe Vida).
THE RESTAURANT:
Cafe Vida promotes itself as a unique and exciting combination of delicious healthy California food with Latin flavors.
View their menu at:
http://www.cafevida.net/wp-content/uploads/2011/04/april-11-menu.pdf
Good Yelp reviews at http://www.yelp.com/biz/cafe-vida-pacific-palisades
Cafe Vida does not take reservations. As this is a very popular restaurant and a Sunday morning, please be there no later than 10 am.
THE GETTY VILLA: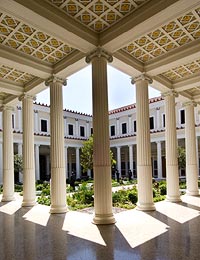 The Getty Villa in Malibu (Pacific Palisades) is an educational center and museum dedicated to the study of the arts and cultures of ancient Greece, Rome, and Etruria.

Please see the April 15 event calendar at:
http://www.getty.edu/visit/calendar/days/04152012.html
We will each explore the Villa based upon our individual interests. I am interested in the Architecture and Garden Tours (40 minutes each).
TICKET(S):
Admission to the Getty Villa is always free. An advance, timed-entry ticket is required. That needs to be obtained online at:
http://tickets.getty.edu/show_events_list.asp
PARKING:
Parking is $15 per vehicle.
I recommend that we carpool from the restaurant.
Visitors to the Getty Villa are not permitted to park anywhere other than the Getty Villa as a condition of the Conditional Use Permit issued by the City of Los Angeles.
Entry to The Getty Villa is only from the south. Access to the Getty Villa entrance is only from the northbound right-hand lane of Pacific Coast Highway(PCH). Turning left across PCH is illegal and any attempt to enter the site via Coastline Drive is not permitted.