I think we all could use a discount, so I found this coupon for us to use on Half.com to buy our book club book.
Here's a FREE $5.00 coupon to use at Half.com
Get $5.00 OFF your first order of $10 or more.*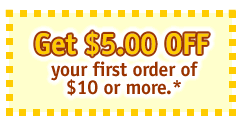 Claim Code:
PBEU7TCFTQHW
You MUST enter the claim code in the Shopping Cart to get your discount. Limited Time Offer*.
Happy Reading!! Samantha