We're big fans of the Sustainable Economies Law Center (SELC), a nonprofit partnership of legal beagles leading the way to building community, setting up systems to facilitate sharing. EBCOHO supporting member Janelle Orsi is co-founder.
Join us in joining them to celebrate another year.
It's SELC's 4th Annual Fall Celebration!
Please join us in celebrating progress toward the creation of just and resilient local economies!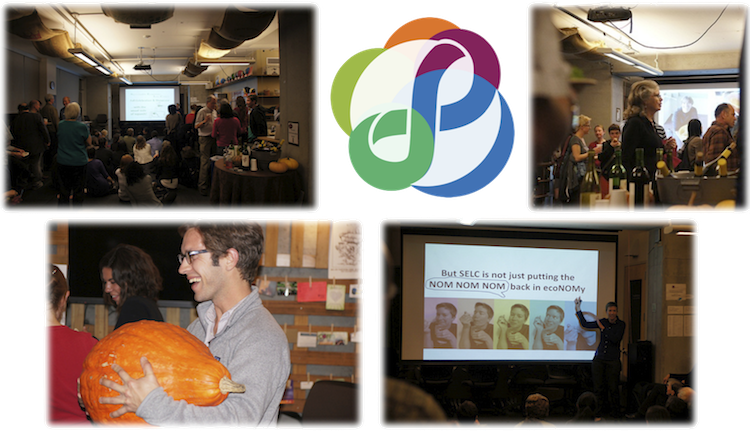 FEATURING:
Lively presentations
Silent Auction showcasing local Cottage Food delights, concert tickets, and much, much more!
Dinner served by local worker cooperative, Fusion Latina
Wine, beer & kombucha
The Bay Area's finest sharing economy movers and shakers
Dazzling winter squash to take home!
We've been busy at work. Really busy! Won't you come and join us to help raise the necessary funding to support our efforts for another year? At SELC, this is the time of year where we havest the fruits of all the great work we've been doing. Over the past 12 months SELC:
Put on the first ever workshop series for Sharing Economy attorneys and legal professionals
Facilitated multiple how-to workshops on creating food enterprises
Held the first ever all Spanish language cooperative and food business workshop in Richmond
Launched a new website, LikeLincoln.org, to educate and empower people to become attorneys through legal apprenticeships
Has continued working with key stakeholders to create a legal entity for worker cooperatives in California to be presented to the CA legislature in Februray 2014
Visit us at www.theselc.org
RSVP here to tell other EBCOHO folks you're coming, and then get your ticket at:
http://selc2013.eventbrite.com/
(tickets only sold at the door if available, possibly at a higher price)
Note: This is not a cohousing-specific gathering, and EBCOHO is not an official sponsor of this event, we're just cross-listing it to promote our friends' great work.
Check out feedback on last year's gathering:
http://www.ebcoho.org/events/89299792/
and three years ago:
http://www.ebcoho.org/events/15076326/
"That was fantastic and inspiring and I will look into getting involved" wrote Emily, who is still part of our group.