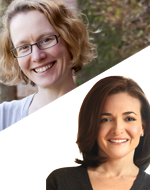 In an increasingly insecure economy, it's easy to get bogged down with statistics and lose sight of the human costs of the recession. Stanford sociologist and lead researcher for the book Lean In, Marianne Cooper wants to change that. In her new UC Press book, Cut Adrift, Cooper weaves together deep data analysis of our frightening economic condition with real-world stories of families struggling to adjust. Hearing from everyone from suburban soccer moms to those struggling to feed their children, we're given an intimate look at the challenges facing modern families, and how financial anxiety penetrates the daily lives of those at every socioeconomic level. Whether it's the wealthy seeking even stronger security or the poor trying to avoid further instability, Cut Adrift gives us a glimpse of changing gender dynamics and how families are coping in a go-it-alone economy. Hear Cooper in conversation with LeanIn.org Founder Sheryl Sandberg (of Facebook fame), as they unpack the worries all American families face and brainstorm what can be done about it.
Why are we listing this in a cohousing MeetUp group? Well, banding together seems like the best antidote to a "go-it-alone" economy, and cohousing is often popular among families precisely because of its implicit feminist culture and design.
This is a Commonwealth Club event; Raines and Betsy are members and eager to share the inspiring talks the group puts on, so picked up a block of tickets. Reserve your spot by mid-August for best prices; tickets bought directly from the club cost over $30 including fees. Cohousing California/East Bay Cohousing supporting members save $5.
Doors at 5:45, program starts promptly at 6:30. Optional no-host dinner afterwards to continue the conversation if there's interest.
Note that the Castro MUNI stop on Market is just a few steps away from the theatre.