516
Ads
.

com

- Thank You!!!,
Maggies
,
Business Corners
,
Ciao' Baby
,
Anniversary Recap
,
Champions for a Cause
, Help Wanted,
Asia Lee
,
Quic
k Hits,
Quote
…
---
Hello everyone!!! Happy Sunday morning!!! LOTS of events, LOTS of info; LOTS of appreciation/ thanks &
LOTS of opportunities to better your business!!! Hope to see you @
Maggie's
!!! Looking forward to
Business Corners Breakfast
!!! We'll be Back @
Ciao Baby
, Melville Chamber
,
Champions for a Cure
& LOTS more!!! If you're looking to ignite  your business; let's get to it ...
Dear Everyone,

Thank You!!!
It started July 20, 2007 with one logo that said,
"Coming Soon"
. Since then, 516
Ads
/ 631
Ads
has worked to build
Long Island's
Business/ Community Network (Resource)!!!. What is a
Business/ Community Network? It's whatever we make it to be!!!
On the business end, we call it Igniting Business!!!  It's about using multiple tools, on the web and off the web, making connections, building relationships,
providing value, providing quality ...
creating smart business activity over and over again!!!
On the
community
end, we call it Goodness Speaking Up!!! Our amateur philosophical thought: in a world where hate makes headlines; goodness needs to speak up!!! Now we can't just make a 'good newspaper', that wouldn't work. BUT, if we could ignite business, build a
LI
resource, built by the business community, because it brings them value, than yes ... in addition to igniting/ bettering business, we can raise awareness, supplies and support for many great things going on in the
community
!!!

Networking and it's many wonderful byproducts has become prolific on
Long Island
; 516
Ads
/ 631
Ads
is proud to be a part of it!!! So far, it's been an incredible combination of
community and commerce
!!!
THANKS TO EVERYONE
WHO MAKE IT HAPPEN
!!!
We look forward to earning your respect/ working with you for many years to come!!! 

Sincerely,
David Gussin
516
Ads
.com & 631
Ads
.com
Long Island's Business/
Community
Network (Resource)
[masked]

______________________________
Hope To See You There!!!!
516
Ads
.com & 631
Ads
.com
August Dates
Tuesday August 6,[masked]PM @
Maggies/ Massappequa
Thursday August 8,[masked]AM @
The Business Corners
Monday August 19,[masked]PM @
Ciao' Baby
Tuesday August 20,[masked]PM @
The Blue Lagoon
________________________
516
Ads
.com & 631
Ads
.com
'Anniversary Recap'
We tell it like it is!!! It was hot, it was crowded, it was noisy!!! Despite that, nothing could stop  516
Ads
.com & 631
Ads
.com from celebrating its
6th Anniversary
with a BIG TIME night of networking @
The Blue Lagoon
!!!  Packed house!!! Great people, great energy, LOTS of new faces, LOTS of old friends,  it was a Who's Who of the
LI Networking
Community!!! Thanks to events sponsors Karin Caro -
Blu Chip Marketing
, Jo Haramis - Floors Decor & More, Glenn & Christina Hall -
Intercontinental Money Solutions, Inc,
Steve La Rosa - Rodan Inspections, Charles Razenson -
Unique Impressions
, Deirdrea Renwick -
GOTT Management Services
,
Sobel Law Offices
& Teresa Ward -
Teresa's Family Cleaning
for their support/ making it possible!!!
Thanks to
The Blue Lagoon
for their hospitality!!!
Thanks to
DJ Ray
for great music!!! Thanks to
Asia Lee
fort great
pictures
!!!
Thanks to all who came out!!!
_____________________________________
This Week's Happenings...
Sponsored by
Laura Sabbagh, CPA -

www.LS-CPA.com

-[masked]
NETWORKING WITH NYBA (NY Business Alliance)
Tuesday, July 22,[masked]:00AM
Café 93 - Crossroad Corporate Center - 1393 Veterans Highway Hauppauge, NY, 11788

Networking is about creating long lasting relationships/connections with other professionals. Join the NYBA Tuesday 8AM @ Café 93/ Hauppauge. Open to all!!!  Please contact Laurinda Handlik -
NY INTRODUCTIONS
-[masked] for details!!!
______________________________
The Greene Round Table Networking Lunch
Wednesday, July 24,[masked]:00pm - 2pm
The Blue Lagoon - http://the-blue-lagoon.com
677 Farmingdale Rd. (Rt. 109)
West Babylon NY

If you're looking for a quality one per industry group; The Green Round Table Lunch meets every other Wednesday 12PM@ The Blue Lagoon!!! No fee, just pay

$17

for lunch and start networking!!! RSVP a must!!! For more information contact Kenneth J, Greene -[masked]
______________________
Melville Chamber of Commerce
'Business After Hours'
Wednesday July 24,[masked]:30PM -8PM
Holiday Inn - Plainview
215 Sunnyside Boulevard
Plainview, NY 11803
Please visit
Melville Chamber
for details!!!

_______________________________
Pathways Networking Group
Thursday July 25,[masked]AM
Hauppauge Palace Diner
525 Smithtown ByPass
Hauppauge, NY 11788
(631)[masked]

Led by Sheryl Hecht - Douglas Elliman Real Estate - http://SherylHecht.com, and with members like

Best of LI's Electrician

Jason Goetz - http://electricians.li this high quality one per industry group is looking to grow. Make new contacts, build relationships, for more information/ RSVP, and please contact Sheryl Hecht -[masked] for details!!!
___________________________



Natural Solutions for ADD/ADHD


Friday, July 26,[masked]PM - 9PM
Panera
1025 West Montauk Highway
West Babylon, NY

More and more children are being diagnosed with ADD/ADHD everyday and the only options are medications right now. But is there a better way to help your child deal with these symptoms??? ABSOLUTELY! Come & LEARN! Please visit

http://wellnesscreators-efbevent.eventbrite.com/

for more information!!!

__________________________
Business Tip of a Lifetime...
When it comes to YOUR business, there is no product/ service coming around that will ever be more valuable than YOU!!!!



______________________________
TICKETS HERE!!!
GET YOUR TICKETS!!!
Here!!!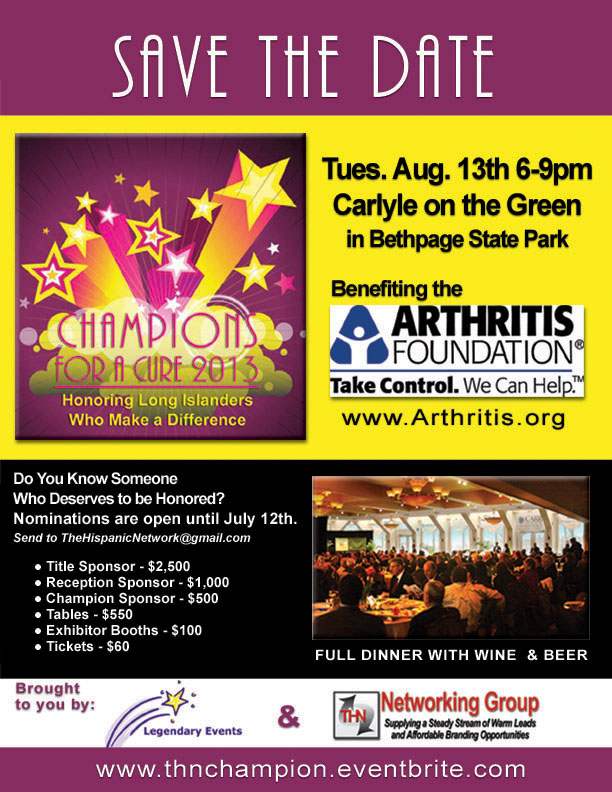 516

Ads

.com & 631

Ads

.com
is proud to be an honoree!!!


Purchase Tickets Here!!!


Hope to see you there!!!
______________________
Quick Hits ...
Sponsored by
Paul Bryan Schneider, Esq. -
www.LawSchneid.com
-[masked]
Customer Service SUPERVISOR                         Salary range: up to $60K
Great place to live!  Great place to work!  Long Island's Knockout Pest Control continues to grow!
We are looking for a "hands-on" Customer Service Supervisor  who will be responsible to ensure timely, accurate and comprehensive communication and responses to internal and external customers.  This is a typical office environment.  Are you willing and able to "do whatever it takes" to get the job done?
The Essential Job Responsibilities include:
Proactively supervise customer service team to exceed customer expectations
Routing - review, revise and approve daily routes
Proposals - facilitate timely preparation and submission to customers
Office Administration - manage database accuracy, new account
Supervise Department - proactive hiring, personal growth, disciplinary actions; provide coaching, mentoring essential to staff growth
Knowledge/Skills/Abilities Required:
Proficient in Microsoft Office
Ability to collect, interpret and/or analyze data and information
Critical thinking and creative problem solving skills combined with sound judgment
Strong integrity, ethics and emotional control
Proven written and verbal communication skills
Minimum Qualifications:
Bachelor's degree a plus
2 years' experience managing a telephone based Customer Service Department with a minimum of 5 staff
If you are the "right person for the job" please send your resume and cover letter, including salary requirements to: [address removed]
_____________________________________
Asia Lee Presents...
Reflections of Our Own Essence
The Long Island Art League
Dix Hills, New York, 11746
August 3-17, 2013
www.indiegogo.com
Tel:[masked]
Art and nature have proven healing powers. Maybe that is because they remind us of who we are, and what is important to us. It just may be for a moment, we are connected to our source, the spirit, the energy, or possibly God. Asia Lee's dream is to share this vision you, her appreciation of life and the beauty that surrounds all of us.
_______________________________
Are You The Next Teresa Girl???
_________________________
SAVE THE DATE!!!
LIME Launch Party
Tuesday September 17th, 2013
Jewel Restaurant
400 Broad Hollow Rd
Melville, NY 11747
5:30pm-8:00pm
___________________________
Long Island's Over 50 Fair!
Sunday, September 29, 10AM - 4:30PM
@ The Melville Marriott
Please visit
Over 50 Fair
for vendor/ sponsorship opportunities!!!
_____________________________



Hard Hitting Quote ...
"The world ain't all sunshine and rainbows. It can be a very mean and nasty place and I don't care how tough you are it will beat you to your knees and keep you there permanently if you let it. You, me, or nobody is gonna hit as hard as life. But it ain't about how hard ya hit. It's about how hard you can get hit and keep moving forward."
~Rocky Balboa~
__________________________________

Have a great week!!! Make things happen!!! :)
__________________________________

516Ads.com & 631Ads.com
Long Island's Business/ Community Network
[masked]
___________________________________________