516

Ads

.

com

-

Maggie's

,

Business Corners

,

Ciao' Baby

, Nice!!!,

Writer for Hire

, CBC

,

Champions for a Cause

,
Busy Week
,
Tikkun,
Quic
k Hits,
Quote
…
---
Hello everyone!!! Happy Sunday morning!!! The Long Island Business/ Networking Community has taken on a life of it's own and we're proud to be a part of it!!! Events everywhere, business activity everywhere!!! Helping charities along the way, everywhere!!! It's a pretty amazing combination!!!
Hope to see you @
Maggie's
!!! Looking forward to
Sexy Salad
/
Business Corners Breakfast
!!! Monday Night Networking @
Ciao Baby
,
CBC
, Champions for a Cure,
TIKKUN
: Long lsland
& LOTS more!!! If you're looking to ignite  your business; whatever you do, do it great!!! Let's get to it ...
Hope To See You There!!!

516

Ads

.com & 631

Ads

.com /

FREE

Networking Night!!!
Tuesday August 6,[masked]PM
Maggie's on Park
1020 Park Blvd, Massapequa Park, NY 11762
516

Ads

.com & 631

Ads

.com is proud to be teaming up with MRG Marketing & event sponsors Tricia Gonzalez -

Tricia's Custom Travel

-[masked], Anthony Robinson -

ECapture, Inc

.

-[masked], Christine Lauria –

Butterfly Energy

- (631)[masked], Gale Brickman – Allied Mortgage Group - [masked] & Robert Raskin –

Money Garden Ltd.

– [masked] for a BIG TIME night of smart business activity @ Maggie's on Park!!! Great people, delicious food, excellent networking, hope to see you there!!! 
_______________________
Let's Make It A Great One!!!
516

Ads

.com & 631

Ads

.com
/

Better Your

Business Breakfast
Thursday August 8,[masked]AM
The Business Corners
200 Motor Parkway, Suite B13
Hauppauge, NY 11788
Catered by our friends @  The Sexy Salad of Hauppauge -[masked] … hosted by our friends @  The Business Corners -[masked] … sponsored by seminar participants Laura Sabbagh, CPA -

www.LS-CPA.com

- [masked], Larry Densen - Sign*A*Rama - (631)[masked], Alissa F. Bickar -

KickAss Coach for Entrepreneurs

- (516)[masked] & award winning embroiderer  Charles Razenson - Unique Impressions - [masked] ... you can expect to make new connections, quality information,  excellent networking,
a delicious breakfast
& LOTS of opportunities to better your business!!! Hope to see you there!!!

____________________________
Monday Night Networking!!!!
516

Ads

.com & 631

Ads

.com /

FREE

Networking Night!!!
Monday August 19,[masked]PM
@
Ciao' Baby
/
Massapequa
Hope To See You There!!!
________________________
My Adventures In Networking – Breakfast, Lunch and Cocktails
Networking groups and events are designed with professionals in mind. These groups encourage us grow our personal networks and communities by interacting on social level with our peers. They provide us with the more social and relaxed setting needed meet to with as many new people as possible, as well as reconnect with professional acquaintances or catch up with colleagues we haven't seen in awhile. As a college student and recent grad I was encouraged by several professors and family friends to participate in such groups and events. But due to my shy, introverted nature, I shied away from them. Looking back, I wish I 'd taken their advice a lot sooner. More ...
****
In addition to being a - fun to read/ informative -  first hand account of networking;
the above blog post is a wonderful example of the new social media tools on
516
Ads
/ 631
Ads.
Events, blogs, pics, videos ...
lots of smart tools to better your business!!!
Thanks to
all our sponsors
for their support/ making it possible!!! Thanks to
Janice Tverberg
for her submission!!! :)
___________________________
Nice!!!! ...
David,

Thank you! Happy to say that thanks to networking, I am crazy busy! ...  I often hear your voice saying "Are you ready? Could you ever be too busy?"  Lol...never expected to be this busy....it is of course a GOOD problem! I will keep in touch and I will see you soon!  I am thankful for all you have done and for the many connections I have made, I wouldn't be where I am today without it all!

Heather Sanderson
HLS Expediting
[masked]
______________________________
Of Course We Can :) ...



Dear 516Ads,

Can you please put the following in your Newsletter for Jacie's Kids:

Jacie's Kids helps children with life threatening medical conditions. As Non-Profit Organization we partnered with Macy's Shop for a Cause to raise money. Please come and visit us to get your pass at the Bethpage Credit Union on Montauk Hwy in West Babylon August 9 & 10, and August 16 & 17. A $5.00 booklet is good to shop all day Saturday August 24, at any Macy's and save 25%. Thank you for your help and support.  - Beatrice Haas
____________________________
This Week's Happenings
...
Sponsored by
Jennifer Benjamin, MBA, GCM -
Family First Home Companions
-[masked]
The Greene Round Table Networking Lunch
Wednesday, August 7,[masked]:00pm - 2pm
The Blue Lagoon - http://the-blue-lagoon.com
677 Farmingdale Rd. (Rt. 109)
West Babylon NY

If you're looking for a quality one per industry group; The Green Round Table Lunch meets every other Wednesday 12PM@ The Blue Lagoon!!! No fee, just pay

$17

for lunch and start networking!!! RSVP a must!!! For more information contact Kenneth J, Greene -[masked]
______________________
Caribbean Business Connections' Monthly Networking Event
'Facilitating business growth while promoting Caribbean culture'
Wednesday Aug 7,   6:00– 8:00 PM
Spices Negril Restaurant & Lounge
1084 Grand Ave, South Hempstead NY 11550
For more info  http://www.caribbeanbizconnections.com/

_______________________________________
Asia Lee Presents...
Reflections of Our Own Essence
The Long Island Art League
Dix Hills, New York, 11746
August 3-17, 2013
www.indiegogo.com
Tel:[masked]
Art and nature have proven healing powers. Maybe that is because they remind us of who we are, and what is important to us. It just may be for a moment, we are connected to our source, the spirit, the energy, or possibly God. Asia Lee's dream is to share this vision you, her appreciation of life and the beauty that surrounds all of us.
___________________
More August Highlights...
Sponsored by
Dr. Samuel First, DDS.
-[masked]
Massapequa Park Street Fair
August 4th - 11:00AM
Ocean Beach Fine Arts Fair
August 10th &
11th - 10:00AM
OCEAN BEACH FAIR INFO
Hope your Summer is Fantastic.  Stay Cool and Read.
Sincerely,
Linda Maria Frank - Author
Annie Tillery Mysteries

________________
TICKETS HERE!!!
GET YOUR TICKETS!!!
Here!!!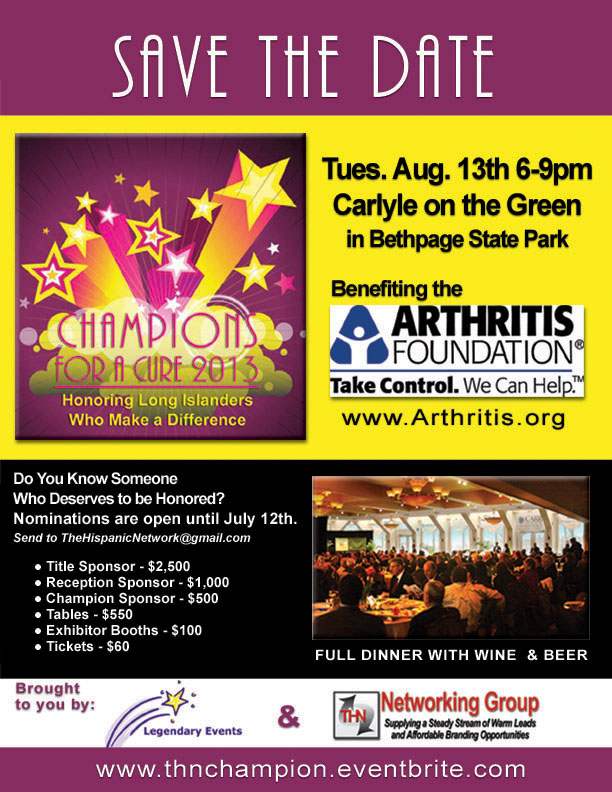 516

Ads

.com & 631

Ads

.com
is proud to be an honoree!!!


Purchase Tickets Here!!!


Hope to see you there!!!
_____________
The Crescent Beach Club


[masked]
_____
Quick Hits ...
Sponsored by
Keith Burke -
KB Bicycles
- [masked]
This Just In ....
J.Hilburn Leads the Revolution in Custom Menswear
www.nbcnews.com
Today J.Hilburn, the fastest growing custom clothing company in the world, has released its results ... please contact
Deborah Scanlan - J. Hilburn
-[masked]
for more information!!!
_____________________________-
FOR SALE:
Mixed Use
769 Fulton St.
Farmingdale, NY 11735
$410,000



 Lot: 8,085 SF
 Taxes: $9,560.00
 Building Size: 3,000 + 450 sf +/-
 Zoning: D Business
 CAC
 10 Parking Spaces
 2 Cut Outs
 Fenced Lot
 Professionally Landscaped
 High Visibly
2nd fl Apartment with loft -$1,500 monthly

Michele Michael
[masked]
[address removed]
___________________
SAVE THE DATE!!!
LIME Launch Party
Tuesday September 17th, 2013
Jewel Restaurant
400 Broad Hollow Rd
Melville, NY 11747
5:30pm-8:00pm
___________________________
Long Island's Over 50 Fair!
Sunday, September 29, 10AM - 4:30PM
@ The Melville Marriott
Please visit
Over 50 Fair
for vendor/ sponsorship opportunities!!!
_____________________________
Expecting Parents
& Baby Expo
Sunday, October 6, 2013
Long Island Hilton
Melville, NY
The expecting parents & baby demographic SPENDS MONEY on many products and services. No expense is ever spared. Does your product/service serve this market? Now booking sponsors and exhibitors. MORE INFO
_____________________________
_____________________________
Tikkun
Long Island
October 21st - October 28th
Find Out More...
Blu Chip Marketing
[masked]
______________
LIFIGHTFORCHARITY.ORG
For more information, please call (877)[masked]



-----------------------
Short/ Accurate Quote ...
"Be resilient!!!"
You better be!!! :)
__________________________________

Have a great week!!! Make things happen!!! :)
__________________________________

516Ads.com & 631Ads.com
Long Island's Business/ Community Network
[masked]