516Ads.com - Maggie's, Business Corners, Ciao' Baby, FOUR, August Dates, Teresa Girl, Asia Lee, Special Needs Expo, Champions for a Cause, Quick Hits, Quote…
Hello everyone!!! Happy Sunday morning!!!
LOTS
of events,
LOTS
of info; and while nothing will ever be more important than
your attitude, hard work, determination, quality product/ service ... 
LOTS
of excitement over the inter-active tools being installed on the
516
Ads/ 631Ads
site!!! 
If you're a member,
please upload your profile!!!
If not,
you should
become one
!!! :) 
Hope to see you @ Maggie's!!! Looking forward to Sexy Salad/ Business Corners Breakfast!!! Monday Night Networking @ Ciao Baby, HereMatch @ FOUR, Asia Lee Presents ... Special Needs Expo &
LOTS
more!!! If you're looking to ignite  your business; don't let a heat wave or anything stop you from making your business the best that it can be!!! Let's get to it ...
Igniting Business @ Maggie's …516Ads.com & 631Ads.com
/
FREE Networking Night!!! Tuesday August 6, 2013 6PMMaggie's on Park
1020 Park Blvd, Massapequa Park, NY 11762
516Ads.com & 631Ads.com
is proud to be teaming up with
MRG Marketing
& event sponsors
Tricia Gonzalez
-
Tricia's Custom Travel
- 516-620-0855,
Anthony Robinson
-
ECapture, Inc.
- 516-669-0881,
Christine Lauria
–
Butterfly Energy
-
(631) 482-1500
,
Gale Brickman
–
Allied Mortgage Group
-
516-770-0561
&
Robert Raskin
–
Money Garden Ltd.
–
516-710-4150
for a
BIG TIME
night of smart business activity @
Maggie's on Park!!!
Great people, delicious food, excellent networking, hope to see you there!!!
_______________________
Better Your Business Breakfast!!! 8 /8 @ 8AM 516Ads.com & 631Ads.com/ Better Your Business BreakfastThursday August 8, 2013 8AM
The Business Corners
200 Motor Parkway, Suite B13
Hauppauge, NY 11788
Catered by our friends @ 
The Sexy Salad of Hauppauge
- 631-435-3678 … hosted by our friends @ 
The Business Corners
- 631-951-4300 … sponsored by seminar participants
Laura Sabbagh, CPA
-
www.LS-CPA.com
-
516-532-4839
,
Larry Densen
-
Sign*A*Rama
-
(631) 952-3324
,
Alissa F. Bickar
-
KickAss Coach for Entrepreneurs
-
(516) 782-5428
& award winning embroiderer 
Charles Razenson
-
Unique Impressions
-
516-931-2485
... you can expect to make new connections, quality information,  excellent networking, a delicious breakfast &
LOTS
of opportunities to better your business!!! Hope to see you there!!!
_____________________________
516Ads.com & 631Ads.com
/
FREE Networking Night!!!
Monday August 19, 2013 6PM
@
Ciao' Baby/
MassapequaHope To See You There!!!
________________________
This Week's Happenings...Sponsored by
Janice Tverberg
-
Writer for Hire
-
570-677-6785OCEANSIDE GAZEBO
Summer Reading
July 29th
7:00 pm
Oceanside Summer Gazebo Readings[/url]
[/url] Come on by and join us at the Gazebo for a relaxing summer night.
____________________
SOUTH SHORE NETWORKING Tuesday July 30, 2013 8AM
Imperial Diner
63 West Merrick Road Freeport, NY
SOUTH SHORE NETWORKING
shares 'HOT' leads on new businesses, decision makers, contacts, etc.25 to 30 dedicated business men and women eager to create beneficial relationships. ($15 for Breakfast) Please contact
Sherri
516.623.5883 -
mrgsherri@yahoo.com
for RSVP/ more information.
______________________________________­_______
LIConnects Networking Lunch
Wednesday July 31, 2013 12:30 PM - 2:30PM
Hauppauge Palace Diner
RSVP a must!!! Contact
Tiffany O'Reilly
–
LIConnects
–
631-504-9202
____________
______________
Are You The Next Teresa Girl???
_________________________
Special Needs Open House EVERYONE WELCOME!
FREE TO ATTEND
Come and meet our approved specialists.Saturday August 3, 10AM - 4PM LearningRx, 333 Jericho Tpke, Jericho NY
Click Here for Details!!!
__________________________
Asia Lee Presents...Reflections of Our Own Essence
The Long Island Art League
Dix Hills, New York, 11746
August 3-17, 2013
www.indiegogo.com
Tel: 631-889-2898
Art and nature have proven healing powers. Maybe that is because they remind us of who we are, and what is important to us. It just may be for a moment, we are connected to our source, the spirit, the energy, or possibly God. Asia Lee's dream is to share this vision you, her appreciation of life and the beauty that surrounds all of us.
___________________
Business Tip of Forever...
Counting on others to do things for you is a sure way to fail!!!!
_____________
More August Highlights...Sponsored by
Jesse S. Bachrach
- Platinum Solution Services -
516-279-8320Caribbean Business Connections' Monthly Networking Event
'Facilitating business growth while promoting Caribbean culture'
Wednesday Aug 7,   6:00– 8:00 PM
Spices Negril Restaurant & Lounge 1084 Grand Ave, South Hempstead NY 11550
For more info  
http://www.caribbeanbizconnections.com/
­
___________________
TICKETS HERE!!!
GET YOUR TICKETS!!!Here!!!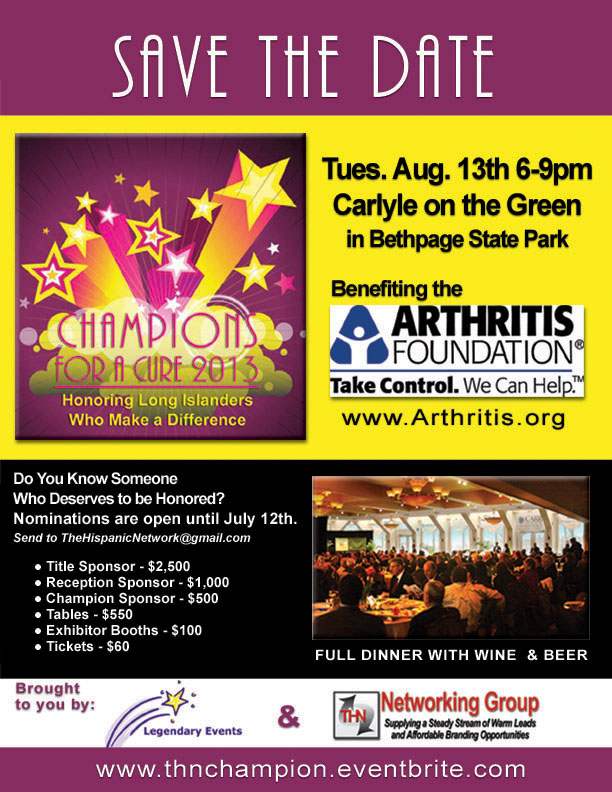 516Ads.com & 631Ads.com
is proud to be an honoree!!!
Purchase Tickets Here!!!
Hope to see you there!!!
_____________
____________
Quick Hits ...
Sponsored by
Stress Release!!! Weight Release!!! REIKI!!! Find Out More ...
Eugenia E. Karahalias, LCSW-R, CASAC, CCH
-
Unleash Your Full Potential Now
-
516-456-4490FOR SALE:
Mixed Use
769 Fulton St.
Farmingdale, NY 11735$410,000
 Lot: 8,085 SF
 Taxes: $9,560.00
 Building Size: 3,000 + 450 sf +/-
 Zoning: D Business
 CAC
 10 Parking Spaces
 2 Cut Outs
 Fenced Lot
 Professionally Landscaped
 High Visibly
2nd fl Apartment with loft -$1,500 monthly
Michele Michael
631-245-2674
mmcommercialrealty@gmail.com[/url]
___________________What's Happening @ Crossroads Farm???
Crossroads Farm at Grossmann's
480 Hempstead Avenue Malverne, NY
516-881-7900
Click here for our volunteer sign-up sheet.
Hours: Tuesday to Friday, 11 to 6
Saturday, 9 to 6, Sunday, 10 to 5
______
SAVE THE DATE!!!
LIME Launch Party
Tuesday September 17th, 2013
Jewel Restaurant
400 Broad Hollow Rd
Melville, NY 11747
5:30pm-8:00pm
_______________________
______________________
Long Island's Over 50 Fair! Sunday, September 29, 10AM - 4:30PM
@ The Melville Marriott
Please visit
Over 50 Fair
for vendor/ sponsorship opportunities!!!
______________________
COMING SOON!!!!
Tikkun
October 21st - October 25thBlu Chip Marketing - 631.337.1603
_________________
_________________________
Sunday, October 6, 2013
Long Island Hilton Melville, NY
The expecting parents & baby demographic SPENDS MONEY on many products and services. No expense is ever spared. Does your product/service serve this market? Now booking sponsors and exhibitors.
MORE INFO[/url]
_____________________________
LIFIGHTFORCHARITY.ORG[/url]
For more information, please call (877) 240-7821

-----------------------Quality Quote ...
"The trouble with not having a goal is that you can spend your life running up and down the field and never score." -
Bill Copeland
__________________________________
Have a great week!!! Make things happen!!! :)
__________________________________
516Ads.com & 631Ads.comLong Island's Business/ Community Network516-547-4018