Saturday, August 8th is my birthday and you are invited to my party! El Barón Jed Walker's Salsa Birthday Bash! Door Prizes. Dance Performances. DJ Carlos de Guatemala
| | |
| --- | --- |
| From: | Jed W. |
| Sent on: | Friday, August 7, 2009 2:50 PM |

We will have door prizes including a drawing for Eddie Santiago Salsa dance concert tickets and free tanning at Exclusive Tan.
A fantastic dance performance of their competition winning Bachata by Luciana and Merrick.
Salsa and Bachata dance lessons.
Salsa, Merengue, Cha Cha Cha and Bachata music by DJ Carlos de Guatemala
AND CAKE!
Please purchase your discount advance tickets today and join us for this great party tomorrow.
Thanks so much,
El Bar?n, Jed Walker
---
7:30 PM on Saturday, August 8th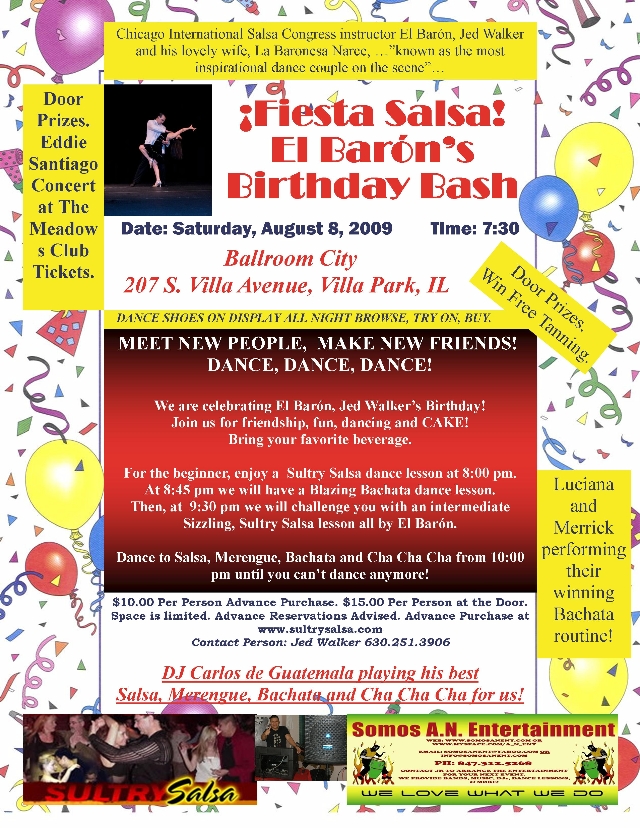 DRESS FOR PHOTOS. ALL AGES WELCOME. B.Y.O.B. NO ATHLETIC WEAR.
Walk-ins welcome but we expect this event to sell out so advance ticketing is STRONGLY ADVISED!
Online Advance Purchase Only $10.00 per person.
To ensure entrance just click on the "I want to do this!" button below, indicate how many people will be coming and proceed to checkout.

OR VISIT
---
What can you expect?
A great crowd of friendly people that want to dance with you!
Meet New People! Make New Friends!
We are celebrating El Bar?n, Jed Walker?s Birthday! Join us for friendship, fun, dancing and CAKE!
Bring your favorite beverage.

For the beginner, enjoy a Sultry Salsa dance lesson at 8:00 pm. At 8:45 pm we will have a Blazing Bachata dance lesson. Then, at 9:30 pm we will challenge you with an intermediate Sizzling, Sultry Salsa lesson all by Official Chicago International Salsa Congress dance instructor El Bar?n, Jed Walker and his lovely wife, La Baronesa Narce, known as "...the most inspirational dance couple on the scene...".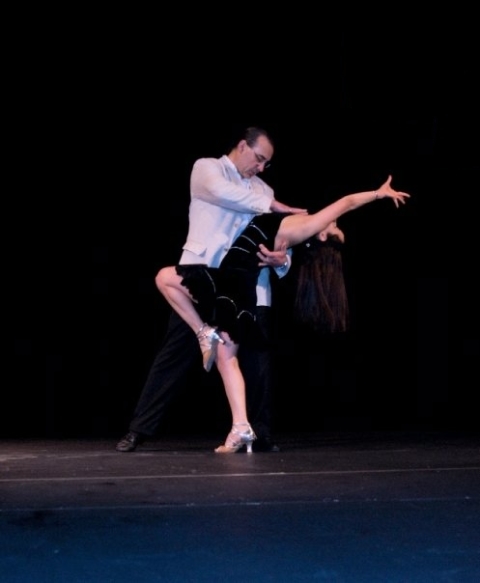 Dance to Salsa, Merengue, Bachata and Cha Cha Cha from 10:00 P.M. until you can?t dance anymore with the best Salsa, Merengue, Bachata and Cha Cha Cha played for YOU by DJ Carlos de Guatemala!
?Salsa es Vida!

Special dance performance by Luciana and Merrick demonstrating their recent competition winning Bachata.

Door Prizes and Giveaways! We will be giving away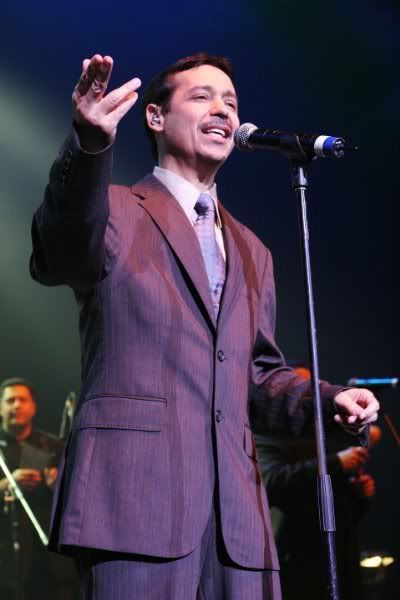 and having a prize drawing for a tanning session from Exclusive Tan!

WANT NEW DANCE SHOES?
Browse and try on our huge new selection on display on the party!

Want to check out some new dance wear? We will have our entire inventory of Tosca Fashions dance wear on display and ON SALE. EVERY ITEM OF DANCE WEAR IS AT LEAST 50% OFF! MAKE AN OFFER! NO REASONABLE OFFER REFUSED. GET A NEW DANCE OUTFIT TONIGHT.

---
207 S Villa Avenue
Villa Park, Illinois 60181
[masked]
---
DANCE WEAR CLEARANCE SALE!
ALL DRESSES, SKIRTS, SLACKS AND TOPS MUST GO!
ALL DANCE WEAR MUST GO! MAKE ME AN OFFER.
NO REASONABLE OFFER REFUSED.
GET A NEW DANCE OUTFIT THIS NIGHT.
---
WANT NEW DANCE SHOES?
HUGE SELECTION OF REGULARLY PRICED SHOES IN STOCK
AND READY TO WEAR TONIGHT!
This email message originally included an attachment.