Check out this picture!  Whaaaaaat?!
Board games:  Come at me bro!  

Where else can you blast, colonize, conquer, sabotage or sneak past your friends?  Well, video games too I guess.  But it's not quite the same when you have to look someone dead in the face and accuse them of being evil WHEN YOU KNOW VERY WELL that YOU are the evil one.  Or you try to remain calm when your friend is only ONE SPACE AWAY from you but they don't know it because you're hiding.  Or you convince someone to negotiate only to unleash a blistering attack on their home planet.  And then you pick up and move around all these wonderfully tactile pieces to claim what is now rightfully yours as your friends glare at you from across the table.  How can anything compete with that?
The New Class
In the 90s, board game sales hit a bit of a lull.  The market had been dominated by classic behemoths like Monopoly, Life, Sorry and Clue for years.  But then a German board game came to America called "Settlers of Catan."  It started a resurgence in board game design and production that has snowballed into a huge selection of diverse and creative games.  The goal of this meetup is to play games of all kinds but particularly to play some of the latest games out there.  Please feel free to bring any games or show up and play some of the games listed below.
Epic Game of the Month: Eclipse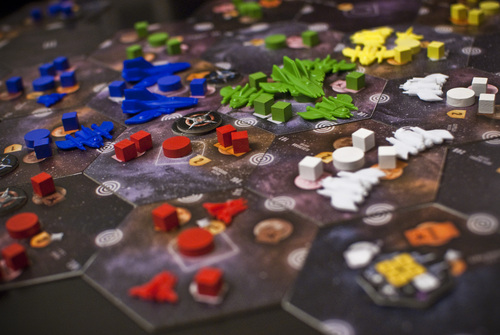 Conquer the universe with your alien empire as you explore, expand, exploit and exterminate (also known as 4X among the truly nerdy board game crowd). Eclipse's size is only matched by its popularity among the board game community. Check out a video overview of the game here if you're interested in a deep, immersive yet complex and epic gaming experience.  If the sheer grandeur of this game has not scared you, join Tony (AKA Thug 13) for a session during this meetup. It will require an iron will, great leadership and a little homework as you check out this walkthrough to cut down on the rules explanation on the day of. Then you can get into the gaming experience much quicker. If you're ready to accept this mission, post it in the comments below or email Tony or myself so we can save you a seat. We'll aim to start at 1 PM. Live long and force be with you.
My games (click on the games to see them in action)

- "Love Letter" possibly the smallest game in the world at 16 cards. A lot of game packed into those cards though as you try to get your love letter to the princess by eliminating your competition.
- "Incan Gold" should you leave the pyramid with the treasure you have or push on for more? Just about the best 'push your luck' game out there and has won a huge pile of awards.
- "Nuns on the Run" It's head nuns versus "novice" nuns as one player tries to catch the others as they secretly race around an abbey.   It's like hide-and-seek the board game!
- "Small World" Not your Disneyland Small World.  Fight for territory as you slash and kill your opponents in this family friendly area control game.  It's won tons and tons of awards and is loved by everyone.  Seriously.  Everyone.
- "The Resistance: Avalon"  We're Knights of the Round Table preparing to go out on a mission.  However there are evil players secretly trying to sabotage our missions.  A fun, almost party-like game with secret identities.   Easily handles up to 10 peeps
- "Banannagrams"  This game is like "Scrabble" played on speed.  Everyone is racing to be the first one to use all of their letters. 
- "Dominion"  Use the money you start with to buy the cards you want in your deck and build an engine that will eventually take more land than anyone else.  This game invented 'deck building' which is simple but taps into that part of us that likes shopping and seeing things grow. 
- "Cosmic Encounters" You're an alien race--now go and colonize the other players' planets!  It's won a ton of awards and is still topping many critics' favorite games list since its first iteration in 1977.
- "Forbidden Island"  You and your friends are a bunch of Indiana Jones wannabes trying to get off a sinking island with treasure.  A very fun, popular, cooperative game. 
- "Settlers of Catan"  You and your settling friends just simultaneously discovered a beautiful, pristine island.  Now who can exploit its resources the best?