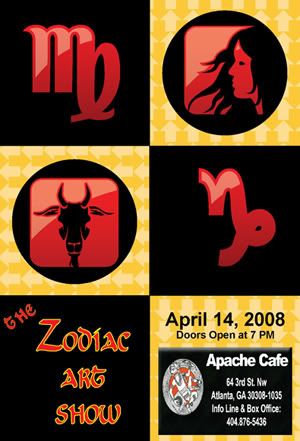 The Zodiac Show is one of the owners, Karen Fain, Favorite Shows. She showcases wonderful interpretations of individual artists zodiac signs. The show will also incorporate some whole zodiac works as well. Zodiac presents a diverse blend of artists. It is one of Apache Cafe's Three annual shows. The artist talk will feature open discussion with all the artists concerning what it means to be born under their signs. Artists will delve into their chosen symbols and imagery selected for their zodiac signs.
Four meetup.com groups have unified for this event. Many creative people will be at there. Designers, Artists, Muses, Art aficionados, and anyone interested in astrology will love this show! Many of the showing artists have disclosed to BombSheDevil that they are also graphic designers. Come celebrate and network with this group! You might find the talent you have been looking to collaborate with!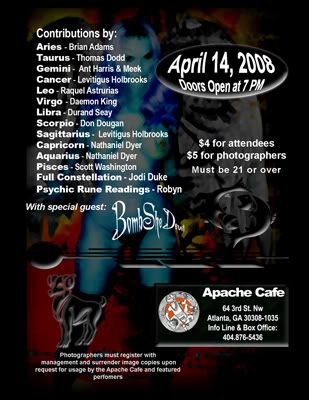 At Zodiac 07, Bombshedevil and Anthony Melita
Posed as Satyr, Representing Capricorn.

We are living in a time where there is a need to reinterpret ourselves and recreate our legacies. Is it possible to recreate symbolic images as old as the sun signs? Please join us on opening night as we discover a new sign of the times. $5.00 donation for Photographers. Photographers must register with management and surrender image copies upon request for usage by Apache Cafe and featured Performers. This is an 21 & OVER Art Show.