Guerilla Union presents
ROCK THE BELLS X 2013 FESTIVAL SERIES
OL' DIRTY BASTARD & EAZY-E'S HOLOGRAMS ARE FAMILY ENDORSED
HipHopDX
recently sat down with Chang Weisberg and Young Dirty Bastard in separate exclusive interviews to speak on the holograms of Ol' Dirty Bastard and Eazy-E.
"Icelene [Jones] and the estate are 100 percent onboard and we'll be releasing a joint statement very soon," Weisberg told HipHopDX on Tuesday (July 30). "I can tell you that they're 100 percent on board and supportive as well as Cherry [Jones, Ol' Dirty Bastard's mother]. This has probably been the most positive experience for the entire family. That's what's going to separate the performance from anything that's been done before because the family is going to be involved in the process, in the creation and the direction of this experience."
Read the in-depth and intimate article
here.
---
ROCK THE BELLS x TEAM BACKPACK CYPHERS
Rock the Bells and Team Backpack have teamed up for the first ever ROCK THE BELLS CYPHER SERIES!
We're bringing the infamous Team Backpack cyphers LIVE to each Rock the Bells festival stop. But first, we want to know who YOU want to see in the cypher…
Tell us your dream line-up featuring any of the artists on this year's Rock the Bells roster, and we'll choose one lucky winner to make their dream line-up come true. PLUS, we'll give you two free tickets to the festival, AND you'll get to host the cypher you put together!
Just tweet the following:
I want to see @artist, @artist, & @artist on a @TeamBackpack cypher at @RocktheBells in [insert your city: LA, SF, DC, or NY].
Peep the video below and stay posted our
website
for more info!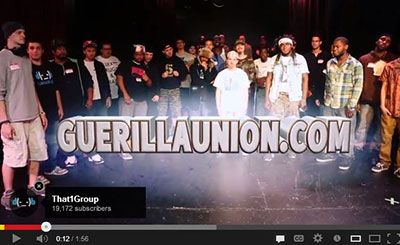 ---
VIDEO: FANS REACT TO STREET TEAM FLYERS
Were you recently at the Wiz Khalifa "Under the Influence Tour" in Irvine, CA?? So were we!
Check out the video below to see if you made the cut while talking to our Street Team members about the RTB flyer.
Plus, a good friend of ours makes a cameo! Subscribe to our
YouTube Channel
and tell us in the comments who it is, and you could be entered to win a Rock the Bells goodie bag!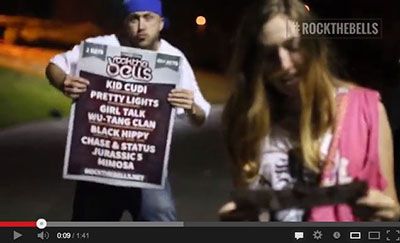 ---
Boost Mobile in association with Guerilla Union presents
ROCK THE BELLS X 2013 FESTIVAL SERIES
MORE ARTISTS TO BE ANNOUNCED
---
---
---
---